Releasing new products is always exciting, but today Colligo went one better and announced the only complete solution for mobile collaboration and email management in SharePoint.
Now, Colligo enables companies to embrace BYOD with a single solution that works across every platform, device, and version of SharePoint, on-premises, in the cloud, or in hybrid SharePoint environments.
It's no secret that there's a massive need for mobile collaboration tools for SharePoint, as organizations balance supporting consumerization and securing their data.
AIIM highlighted this demand in their recent paper, The SharePoint Puzzle – adding the missing pieces, with 90% of respondents reporting that mobile device access to SharePoint doesn't meet, or only partially meets, their needs.
We're proud to solve the SharePoint mobility challenge with this release, available for Windows, Mac OS X, Apple iOS, and Android. And it's already compatible with Microsoft SharePoint 2013, Microsoft Office 2013, and Microsoft Windows 8 PCs and mobile devices.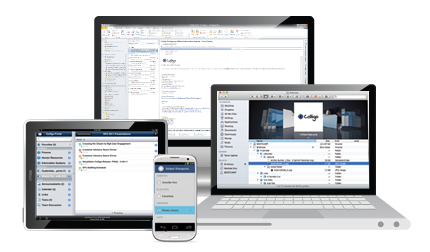 The complete solution can be seen in action at booth #1040 at the SharePoint Conference 2012. If you are lucky enough to be at the show, stop by. We'd be happy to give you a demo and we have great giveaways on hand too.
If you haven't yet registered for our executive luncheon on Tuesday, RSVP now! The panel features the team from Sharing the Point Africa, SharePoint heavy-hitters, Joel Oleson, John Anderson, Mark Miller, Paul Swider, Eric Harlan & Michael Noel, as they share their experiences taking SharePoint to the furthest reaches of the globe.
As global sponsors, Colligo equipped the team with mobile SharePoint access through Colligo Briefcase for access to SharePoint everywhere—from the Serengeti to the top of Kilimanjaro!