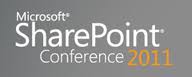 Are you attending the SharePoint Conference 2011 in Anaheim on October 3-6? If you're at the show, don't miss Colligo Networks' executive luncheon, "Secrets to SharePoint Success in the Enterprise".
Space is limited, so please register today!
Wednesday, October 5th
11:45AM-1:45PM
Room: 205AB at the Anaheim Convention Center
Join three respected experts on SharePoint as they share valuable tips, tricks, and practical advice that will drive the success of your SharePoint deployment. Enjoy a great meal, network with peers, and gain real-world insight on how organizations like yours are getting more out of SharePoint.
Luncheon topics include:
From Adoption to Engagement
Robert Bogue, SharePoint MVP
Organizations talk about driving SharePoint adoption, but is that what they really want? Discover how to move beyond adoption to real user engagement, to realize your SharePoint business goals.
Secrets to Success: Inside the Charter Online Information Network (COIN)
Dan Vasey, Director, Records & Information Management, Charter Communications
Creating a SharePoint-based records and information management system that encompasses emails, documents and physical assets requires planning, imagination, enterprise-wide commitment and third-party support. Dan will discuss the development, implementation and principles behind the successful COIN project, including using Colligo solutions for email records management.
Building an Enterprise-Scale Records Management Solution Using SharePoint 2010 & Colligo
Nishan De Silva, Senior Director, Information Management & Compliance, Office of General Council, Microsoft
The legal industry and records world is embracing both SharePoint and Colligo for enterprise-scale records management. Join Nishan as he provide insights into Microsoft Legal and Corporate Affairs' award-winning SharePoint implementation and how organizations around the world are using it as a model for email and records management in SharePoint.
This important event will leave you with tangible advice you can implement to achieve measurable results in your organization.
Space is limited—don't miss out! Register today.