A Busy Week at #SPC12: Mobile, SharePoint 2013, Windows 8, Surface RT, & Bon Jovi!
What a fantastic week at the SharePoint conference in Las Vegas! Colligo's booth was very busy showing our brand new Colligo Briefcase for Android and Mac OS X, Colligo Email Manager, and talking with attendees from all over. The mobility theme was massive, with the expected buzz around SharePoint 2013, Windows 8, and Surface.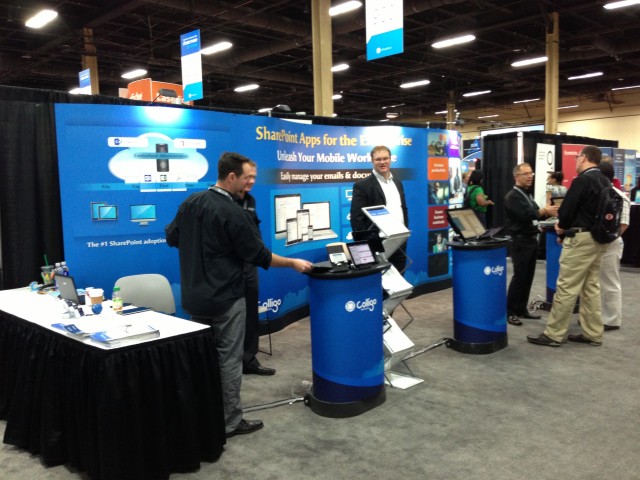 Colligo's Complete Solution
Colligo's complete solution for mobile SharePoint collaboration and content management clearly resonated with attendees facing enterprise-scale challenges in ECM, records management, BYOD, mobility, compliance, and more.
Sharing the Point Africa 2012 Luncheon
Tuesday's Executive Luncheon to celebrate the Colligo-sponsored Sharing the Point Africa tour was a great success. The event kicked off with Colligo's CEO Barry Jinks introducing the session, followed by a video of the tour's highlights. Colligo's SharePoint Services Manager, Ben Henderson then presented Colligo's new products – Colligo Briefcase for Android and Mac OS X. The main event was panel discussion with the Sharing the Point team made up of top SharePoint MVPs and evangelists: Joel Oleson, John Anderson, Mark Miller, Paul Swider, Eric Harlan & Michael Noel. They discussed the tour through Africa, and highlighted how Colligo Briefcase on the Colligo-provided iPads made access to SharePoint anywhere a breeze – including on top of Mount Kilimanjaro! To top off the fun and informative event, every attendee received a free license of Colligo Briefcase Pro.
ROI Worth Talking About
Also on Tuesday, we published third party evidence of our product ROI in a news release. Independent research company TechValidate surveyed 64 Colligo customers with resoundingly compelling results – some even reported immediate return on investment. In addition to solving the specific enterprise challenges listed above, a large percentage of ROI results from substantial productivity and efficiency gains – such as from using Colligo Briefcase for offline access to content on the road. Read the ROI whitepaper and engage our solutions experts to calculate the ROI your company can expect from using Colligo products: www.colligo.com/ROI
SharePoint 2013 – Spotlight on Social and Cloud
SharePoint 2013 offers all sorts of cool new capabilities for the world's favorite collaboration platform. And for Colligo it was an opportunity to emphasize how Microsoft expects Colligo to build out complete solutions on top of their evolving platform – our products solve enterprise challenges that SharePoint 2013 out-of-the-box cannot address. Check out our whitepaper to learn more about SharePoint 2013 and Colligo apps.