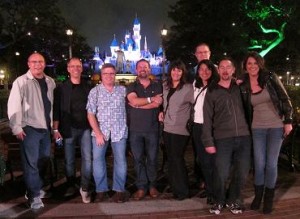 Even though 2011 is a mid-release year for SharePoint, it certainly didn't dampen the enthusiasm at the SharePoint Conference in Anaheim. With another sell-out, SPC 2011 showcased how SharePoint has matured into the collaboration, ECM, and records management platform of choice for organizations worldwide, and highlighted the robustness of the SharePoint eco-system.
If there was one key message from the show, it's that SharePoint 2010 deployment is well at hand and organizations are now looking for ways to increase end-user adoption and engagement. The "standing-room only" audience at the Colligo Executive Lunch, which focused on ways to drive user adoption and engagement, definitely proved this out. The audience heard presentations on tips and techniques for SharePoint success  from Robert Bogue, a eight time SharePoint MVP, Dan Vasey, the records management guru at Charter Communications, and Nishan DeSilva, one of the most energetic and knowledgeable people on all things records management and SharePoint at Microsoft.
One theme from the presentations that stood out was that integrating SharePoint into how users work and the tools they use every day is the key to both adoption and engagement. Since this area is where Colligo really focuses with our Email Management software for SharePoint, it was great to hear how our solutions have really made a difference at both Charter and Microsoft! In fact, in a short video that Nishan played for the audience, one of the attorneys in Microsoft LCA talked about how "her single best technology day at Microsoft was the day she unleashed the power of Windows 7 and Colligo to manage her crazy, crowded Inbox and SharePoint." Powerful testimonial indeed!
Our apologies to anyone that wasn't able to get into the lunch session, as the response was overwhelming and we tried to fit as many people into the room as possible!  We're currently putting the slide decks and audio together so that everyone will be able to hear what our great speakers had to say about driving SharePoint success in the enterprise. Watch this space!
Colligo had a very high profile at the show, with our shiny new booth and the introduction of three new products including the new Colligo Email Manager, Colligo Administrator, and Colligo Briefcase for iPad. I may be biased but I think Colligo was the hit of the show! The response to the new products was incredible and all the Colligo people at the booth were kept hopping for 5 straight days.
Mobility was a hot topic in both the keynote and on the show floor. There's a definite realization that tablets such as iPads have become a viable replacement for laptops in many enterprise scenarios. This was definitely proven by the overwhelmingly positive response that we received for our Colligo Briefcase product – which allows you to access your SharePoint content from your iPad, even while offline. Everyone that tried it, loved it. There is no doubt that it's going to be a great product for Colligo.
So was SPC 2011 the happiest place on earth? Take a look at all the smiling faces of the Colligo team at Disneyland! Thanks to everyone who made the Conference the best ever for Colligo!