Demand for mobile apps in the enterprise is growing, reports Gartner. "The mobile app should make work faster, and better, for the employee, as well as less expensive," advises Van Baker, Research Vice President. But not all enterprise mobility apps are made equal.
Having to look for the right information can drastically hamper efficiency. IDC reports that knowledge workers waste 30% of their workday searching for information – that's 1.5 days wasted each week! Of enterprises surveyed, "60% felt that time constraints and lack of understanding of how to find information were preventing their employees from finding the information they needed."
It's the start of a new year! It's time to eliminate 1.5 days of wasted time each week … by giving employees the enterprise information they need, when they need it, across their devices!
What we've learned from our 5000 enterprise customers worldwide is that hyper worker productivity is only achieved when the right enterprise content is mobilized at the right time to the right workers.
SharePoint, Office 365 and OneDrive for Business are incredible platforms for centralized enterprise content management. The next step to achieving hyper productivity is mobile content management, empowering line of business owners to centrally manage content that is automatically and securely pushed across the devices of their employees. How?
Microsoft Canada and Colligo have just jointly published a new eBook, "Better Together: Mobilizing Your Enterprise with SharePoint and Colligo Engage."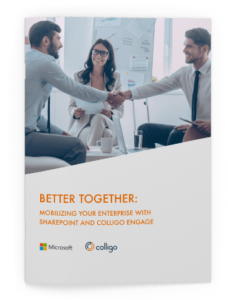 The eBook features 7 ways to save time by leveraging your existing investment in SharePoint and extending it with Colligo Engage to bolster mobile content management:
Push SharePoint content to user devices for instant productivity
Track content usage & user adoption
Capture more metadata when content is saved
Capture emails as records within SharePoint, O365 & OneDrive
Deploy information governance policies centrally
Cache content for a better experience online & offline
Enrich discovery & collaboration for users anytime, anywhere
Here is an excerpt from my friend Mike Hilton at Microsoft Canada, who wrote the forward for the eBook:
"In this eBook, you are going to learn how one of our most widely adopted and accepted software technologies – SharePoint – can become even better by extending it with the award-winning capabilities of Colligo … adding new governance, audit and reporting functionality for business."
This eBook highlights mobile success stories achieved by Air Transat, the National Grid, and Ricard Pernod. Download it today and take the short assessment quiz included to learn if Colligo Engage is the right mobile content management platform for your enterprise.