All the research points to mobility as a major opportunity to drive business success. Today information workers are mobile, period. According to Radicati, the number of mobile users worldwide will reach 6.1 billion this year (with 11 billion mobile phones and tablets in use in 2016). It's wise for enterprises to assume that every information worker has a smart phone and expects mobile access to their business content.
When it comes to SharePoint, mobilizing content is an easy win for information workers and the enterprise.
Are businesses taking the plunge? According to AIIM's latest SharePoint report, The Impact of SharePoint – 2016, 72% of survey respondents show no support for mobile device use with their SharePoint implementation. This represents a major opportunity for growth.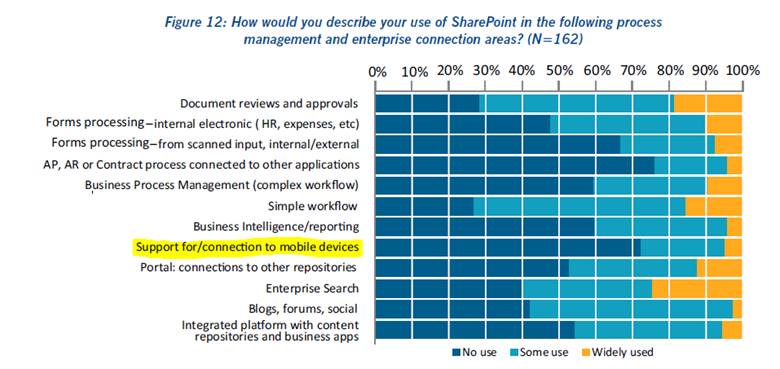 According to the report author, Bob Larrivee (who's also Vice President and Chief Analyst of Market Intelligence at AIIM International), "this is an area of great opportunity for business organizations to maximize the return and value of their SharePoint systems, by extending SharePoint capabilities and process engagement beyond corporate walls. Mobile device use will improve productivity and operational efficiency, enabling employees, partners, and suppliers to interact on an everywhere, anytime basis."
Despite the current lack of support for mobility, the AIIM SharePoint report revealed great interest in mobile applications for SharePoint. Yet not all apps deliver on the promise of hyper mobile productivity.
When choosing a mobile app for SharePoint, what are the most important capabilities?
Ranked #1 for usefulness is the ability to distribute documents in a controlled way – rated as important to very important to 90% of AIIM survey respondents. This was followed by the ability to apply and edit metadata, work offline, and deploy governance policies to mobile devices.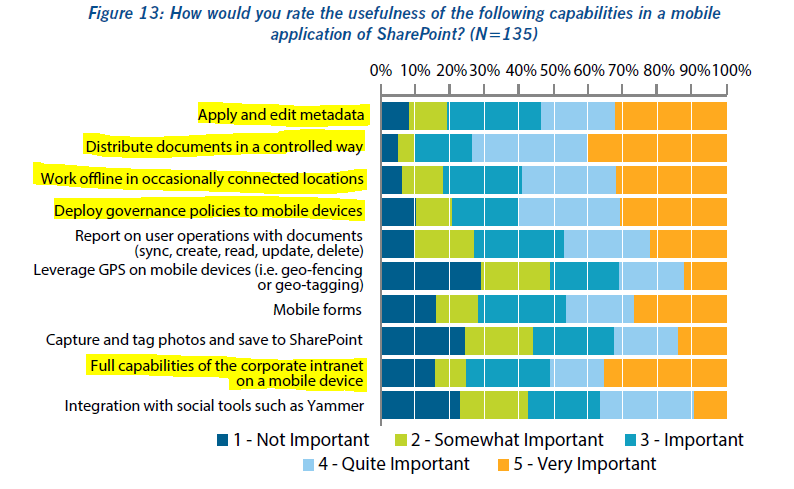 Bob continued, "the simple fact is that mobile device use is here, and for many organizations, it is in-use, whether they know it or are willing to admit it. Today's business organization must be flexible and agile enough to respond to rapidly changing client, industry and regulatory demands. The mobile workforce is growing and in need of extended capabilities." I agree. And as I mentioned in my last blog post, achieving the requirements of the enterprise to control content, mobilize metadata, and deploy governance policies across devices is equally important to meeting the mobile productivity demands of information workers.
Valued at US$79, the AIIM report, The Impact of SharePoint – 2016, is packed with 35+ charts and answers to all pertinent questions as IT professionals plan their next move in response to the recent release of SharePoint 2016. Colligo and our business partner Gimmal sponsored the report so you can now get a FREE copy here!