"Given all of the attention placed these days on the content contained within email messages, one would think that email management would be a major focus," noted Bob Larrivee, Vice President and Chief Analyst of Market Intelligence at AIIM International, in his recent report The Impact of SharePoint – 2016. "Yet 76% of our respondents say they do not use SharePoint for email management." This startling statistic represents a major opportunity for progress for enterprises seeking to improve records management and information governance to minimize legal and regulatory risk.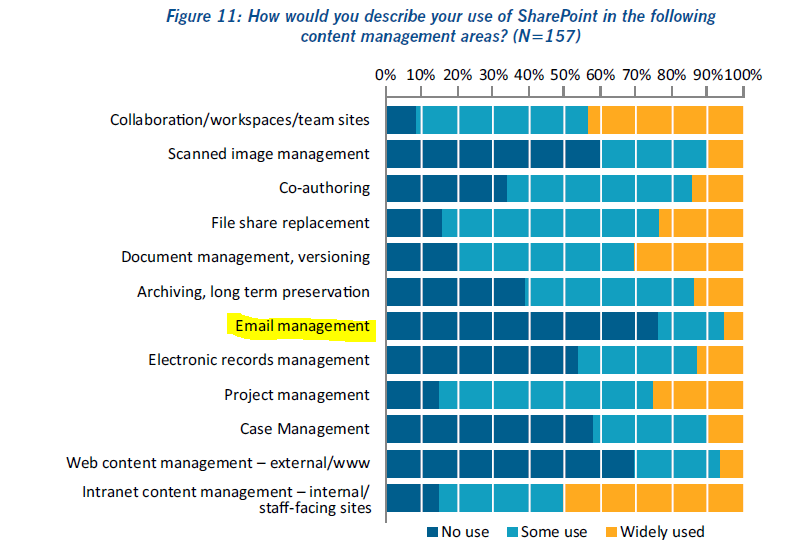 Here's another startling statistic: according to Osterman Research, 1 in 4 emails contains an attachment. 1 in 4! Osterman also reported that "98% of the bits that flow through the typical email system are files that are being shared with others." It's not only the body of the email that represents risk for the enterprise … it's also the attached documents. Keeping enterprise content secure in SharePoint and email records siloed in Exchange and .pst files causes major productivity issues for information workers and unnecessary risk for the enterprise. The solution is to integrate SharePoint and Outlook.
When you look at the integration capabilities of SharePoint with Outlook, both out-of-the-box and through third-party add-on applications, this should be an easy decision to make in an effort to gain greater control over correspondence and minimize risks, reported AIIM's Bob Larrivee.
In a whitepaper I recently authored, 4 Email Problems That SharePoint Can Solve Now, I explain how deeply integrating SharePoint and Outlook can solve these serious problems for the enterprise:
1.      unmanaged email attachments result in content replication and versioning issues
2.      email and document silos cause stranded data and productivity challenges
3.      content emailed for offline or mobile use results in enterprise content leakage
4.      lack of email compliance and records management causes legal and regulatory risks
Making SharePoint home for email records has been working well in practice for years. In early 2010, Microsoft's own Legal and Corporate Affairs Group (LCA) set out to improve the consistency, predictability and efficiency in how their information assets were managed. Several document management systems were being used at the time, creating confusion and disorganization.
How has Microsoft LCA been managing email records since 2010?
Six years ago, they consolidated on SharePoint to leverage its features for records management, enterprise-managed metadata, integration to Office applications and search.
A priority requirement for Microsoft LCA was also to provide their legal professionals with a single view into both the documents and email to be stored in SharePoint. Since email is an important part of the information assets being managed, integrating SharePoint within the Outlook interface to provide email drag-and-drop and automatic metadata capture capabilities was essential. For this, they chose Colligo.
"One of the great benefits of Colligo is that you can access your entire SharePoint repository from inside of Outlook," said Nishan DeSilva, Director of Information Management & Corporate Records Compliance in LCA. "This is a very powerful capability for our attorneys who live in the world of Outlook. With Colligo, they can work on their email and collaborate on documents at the same time, all from within the Outlook interface. There is no context shifting or need to change from one interface to another in order to access SharePoint."
So yes! At Colligo, we agree with AIIM and Microsoft – we recommend SharePoint as absolutely the right home for your email records. I'd like to invite you to read our guide "10 Things to Consider when Choosing the Perfect Email Apps for SharePoint" to help you eliminate file duplication, versioning issues and productivity breakdowns … but most importantly, to empower your collaborative enterprise to avoid risk and exposure to major legal liabilities.