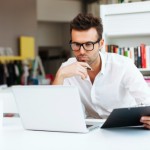 If you've decided to host SharePoint in the cloud, you have another decision to make — which hosting option is best for your business?
It's important to understand all of the hosting options available to you so you're able to choose the one that's the right fit for your technical needs and resources. An article from CMSWire breaks down three options, highlighting the benefits and drawbacks of each.
Multi-tenant cloud (Office 365): Think of this model as taking public transportation (such as the train) to work in the sense that you're sharing the cost of the service with other passengers. The article explains that in a multi-tenant hosted model, "one SharePoint application is installed on a server farm, and all businesses share this SharePoint instance via a dedicated site."For organizations that only need out-of-the-box SharePoint features, a multi-tenant model provides a smart, cost-effective choice. On the other hand, if you're looking to add customized features, it's not the right model for your needs.
Infrastructure-as-a-Service (Windows Azure): This model is exclusive to an organization. As a result, it allows for far more flexibility when it comes to features and integration.The downside to IaaS is that you must have strong internal resources with the ability to manage the platform. The CMSWire article notes that "the resource time required to maintain a SharePoint server is almost universally underestimated and involves a time investment that goes far beyond initial deployment."
Private cloud: This model falls in between hosting SharePoint on-premises and using a multi-tenant cloud environment. You gain control over the application, while reliability is generally covered through the service-level agreement (SLA) with your cloud provider. While SharePoint hosted on-premises is like buying a car, the private cloud model is akin to renting a car.Before entering into any private cloud agreement, be sure to carefully read the SLA, understand what the uptime guarantee protects and evaluate the quality of service.
As you consider these three options, keep in mind that there's no across-the-board "right choice" for every enterprise when it comes to hosting SharePoint in the cloud. Evaluate each hosting option to find the one that's right for your organization.
Source: CMSWire, March 2013