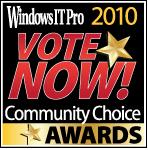 Colligo Contributor Pro for SharePoint and Colligo Reader have been nominated as finalists in the 2010 Windows IT Pro Community Choice Awards, presented by Windows IT Pro and SQL Server Magazine.
This award is based on community voting. If you like Colligo Contributor, you can show it by casting your vote (assuming you think we are the best of course!). This is where you vote. Go to the bottom of the page and hit "Next". On the next page, scroll to Category #23. Best SharePoint Product and select "Colligo Contributor Pro for SharePoint".
And, for those who have enjoyed using our free product, Colligo Reader, here's your chance to show us the love! Scroll to category #29. Best Free or Open Source IT Tool and select "Colligo Reader".
Then scroll to the bottom, enter your name and email address and click Done.
Voting ends September 21st so make sure to cast your vote soon. Last year, Colligo Contributor Pro won the Silver prize. This year, we are going for the Gold!
Thanks for your support!