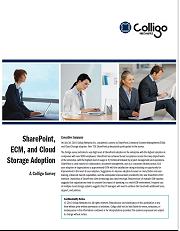 Earlier this year, Colligo completed a survey on SharePoint, Enterprise Content Management (ECM), and Cloud Storage Adoption. We were extremely pleased by the response of the SharePoint community with over 750 SharePoint professionals participating in the survey.
We gathered a lot of interesting findings from the survey, a few of them I'll summarize in this post.  You can also download the entire survey here, to get more details on the specific survey responses and our analysis.
The survey indicated a very high level of SharePoint adoption in the enterprise (over 86%) with the highest adoption in companies with over 5000 employees. We found that SharePoint has achieved broad acceptance across the many departments of organizations, with the highest level of usage in IT/Technical followed by project management and operations.
The survey also found that SharePoint is used mainly for collaboration, document management, and as a corporate Intranet/portal.  We think these results are in line with the current positioning of SharePoint in the enterprise. We do, however, anticipate that other popular applications of SharePoint such as for enterprise content management, records management, and compliance will continue to grow as organizations take advantage of the new features of SharePoint 2010.
End user adoption of SharePoint in organizations is approximately 50%. Combining this result with the overall satisfaction rating indicates an excellent opportunity for improvement in the level of user adoption. Suggestions to improve adoption mainly focused on more/better end user training, enhanced Search capabilities, and the anticipated improvement provided by the new SharePoint 2010 interface.
The usefulness of SharePoint client software was rated very highly with over 80% of respondents indicating a usefulness rating of 3 out of 5 or better with 30% indicating 4 out of 5 and almost 20% indicating 5 out of 5. These results really confirm the value of Colligo's SharePoint client solutions within organizations.
Regarding ECM adoption, over a third of respondents indicated that their organizations are using multiple enterprise content management platforms. After SharePoint, the most popular ECM platforms were EMC/Documentum, Oracle, and Google Apps/Sites. However, the level of adoption of these other platforms (even combined) is much lower than SharePoint. The results definitely suggest that organizations need to consider the impact of operating in a multi-ECM environment.
The survey found that cloud storage systems are frequently being used within the enterprise for sharing business files. For example, almost 40% of respondents indicated their users share business files via Google Apps/Sites. Other popular cloud applications were Windows Live SkyDrive and DropBox. We anticipate that cloud storage will be a growing trend in the enterprise and that IT managers will need to address this trend with additional tools, support, and policies.
Well, that's a short summary of the survey results. I'd like to say a special thanks to all the SharePoint professionals who took the time to complete our survey, your input provided great insight into the current environment and trends in SharePoint, ECM, and cloud storage adoption. If you'd like to read the complete survey and our analysis of the results, please click here.