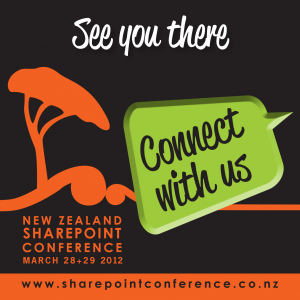 The Colligo team is heading down under! We're really excited to be participating in some key events in New Zealand and Australia, namely the New Zealand SharePoint Conference and an executive luncheon hosted by our Australian partner, Sensory7, for public sector CIOs and records managers.
Colligo is a Silver Sponsor of the New Zealand SharePoint Conference, being held in Auckland, March 28-29. So stop by the Colligo booth (booth #7) and let us introduce you to our award-winning SharePoint email and document management solutions for the enterprise.  While you're there, make sure to enter our draw for a new iPad 2, pre-loaded with Colligo Briefcase Pro, our new iPad app for secure access to SharePoint, online or offline.
We'll be doing a presentation titled "Best Practices for Driving Enterprise-Wide SharePoint Adoption and User Engagement" at the Vendor Track session on March. 29th at 10:30AM. This presentation will take a deep dive into some of the issues that organizations face in getting a high level of SharePoint user adoption and show how Colligo can help solve the problem. I hope to see you there.
But before crossing the Tasman to New Zealand, we'll be starting our trip in Australia by participating in an executive luncheon, "Secrets to SharePoint Success in Your Agency,"  sponsored by our partner, Sensory7. This session is targeted at public sector CIOs and records managers who are looking to increase collaboration, maximize productivity, and simplify records management.
The executive luncheon is being held in Canberra on March 23rd and will provide product demonstrations and presentations on extending SharePoint beyond an out-of-box deployment to create real value for public sector agencies. The session will cover:
Driving productivity and collaboration: integrating SharePoint with Outlook and the desktop to deliver a familiar user experience
Securing vital content on mobile devices: leveraging your existing SharePoint infrastructure to secure corporate data on the iPad
Simplifying records management challenge: implementing email records management in SharePoint
If you're in the Canberra area and are interested in attending this event, please visit the registration page for more information and to RSVP.
The trip is going to provide an excellent opportunity for us to meet many of our customers in Australia and New Zealand. If you're attending the New Zealand SharePoint Conference in Auckland or the Executive Luncheon in Canberra, make sure stop by and say gidday!