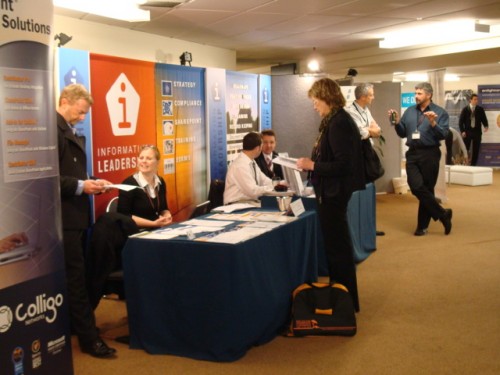 June continued to be a busy month at Colligo for conferences and events. Colligo's Braeden Calyniuk, who's responsible for business development in the Asia Pacific region, recently attended, presented, and exhibited at the New Zealand SharePoint Conference in Wellington and the Australian SharePoint Conference in Sydney. Both events were well attended with over 400 SharePoint professionals in New Zealand and 800 in Australia. Ryan Duguid, who recently co-hosted our extremely successful webinar on email management in SharePoint 2010, provided the keynote address in Wellington.
This was Colligo's first time exhibiting in New Zealand and Australia and it was great for Braeden to meet face-to-face with the many partners and customers that he's only talked with on the phone. It was also great to meet with Microsoft representatives in both countries, so a big thanks to Ryan Duguid for introductions to the Microsoft New Zealand people and to Gayan Peiris for introductions to the Microsoft Australia folks.
Colligo was the guest of Information Leadership Consulting at the New Zealand show and the guest of Unique World for the Australian conference. Both groups generously shared their booths with us and played the part of excellent hosts, making many introductions to key companies and important SharePoint contacts in their respective regions. So another big thanks to Grant Margison at Information Leadership and Eddie Geller at Unique World for their support and incredible hospitality. Many thanks also to Debbie Ireland for putting together two great conferences!
Colligo has built a very good profile in New Zealand and Australia with a solid core of customers and excellent partners. We received a lot of good plugs at various "Voice of the Customer" presentations and the knowledge level of Colligo and our SharePoint client solutions with the conference attendees was fantastic.
Here are some photos that were taken at the events. Braeden is sitting in the middle.