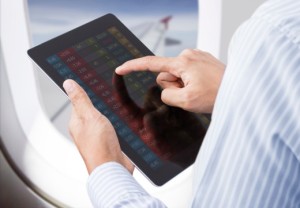 By Robert Bogue
In 2002, I released Mobilize Yourself!: The Microsoft Guide to Mobile Technology with Microsoft Press.  Those were the days of the Pocket PC, Symbian and Palm OS.  Even back then people were speaking about how we would have ubiquitous 3G access and that would solve all of our data communications problems.  If everyone has access to high-speed Internet all the time, then who needs to have offline storage? Back then we thought 128Kbps was high speed.
I vividly remember being in Hollywood for a conference when a Sheriff's deputy from Orange County (the county that Los Angeles is in) and I started a discussion.  He told me that the police cars didn't always have a reliable data signal everywhere in the county.  I realized at that moment the idea that everyone would have high-speed wireless Internet everywhere was a pipe dream.  There are regions where accessing data just isn't going to work.
Over the years I've tried to get access in some very remote places, like Montana, and some less remote places, like southern Illinois.  Neither my cell phone data nor the wireless at my family's home was very reliable, and so as recently as a month ago, I didn't have access to high-speed Internet in the places I go regularly.
I recently was working with a global client where we were discussing Internet access availability across the globe – and how unstable it was.  That is, it's unstable where you can get it at all.  There are still places on the planet where Internet access isn't an option. If you've ever been to a technology conference and tried to do something from the hotel Internet, you know what I mean.
These experiences have shaped my opinion of the idea that you can use SharePoint only while connected.  For a long time I've realized that I can't use SharePoint only while connected.  It used to be that WiFi on airplanes was a dream, and even though more planes are now offering WiFi access, it's not a guarantee.  So I tend to think about my disconnected moments as being at 30,000 feet.  I also find that being disconnected while flying can be the most productive times, because I'm not distracted by other people wanting my attention.
Offline Files
The cornerstone of being able to work offline is the ability to get access to your files and to work on them.  While it seems like this is a trivially easy thing, it's one that is frequently challenging because sometimes the best practices in information architecture are the worst practices for Microsoft's offline access solutions.
Offline access solutions from Microsoft have existed since 2007 in the form of Groove and Outlook, then in 2010 in the form of SharePoint Workspace and Outlook, and in 2013 in the form of SkyDrive Pro and Outlook 2013. I'm going to quickly dismiss the Outlook offline capabilities because of the requirement to manually synchronize documents so that your changes are uploaded.  For most users this is simply unacceptable.
However, the Groove technology — which is the core of Groove, SharePoint Workspace and SkyDrive Pro — is great synchronization technology for files.  (Even today you'll see the process is named Groove if you look at SkyDrive Pro while it's running.)  The technology allows you to synchronize files from your system to SharePoint.  In previous versions (Groove and SharePoint Workspace) you had to open up and use a separate tool to retrieve your files.  In 2013, SkyDrive Pro utilizes an on-file system approach where you can access the files directly, and SkyDrive Pro will transparently notice the change and upload it.  This is a huge usability boost as users expect to open files from the file system.  However, this flexibility comes with a hidden cost.
Information Architecture
My background is in eCommerce.  In my work I have learned that people don't always navigate the same way.  For instance, guys buy shoes by type.  Women, by contrast, generally buy shoes by color — or in truth, based on the outfit they're going to go with.  So the first-level organization for guys is likely type.  The first-level organization for women is probably color.  This is fine except for the fact that you need to accommodate both types of users in the same structure.
The solution is, of course, to do metadata.  You can allow one group of users to navigate along one dimension and another group of people to navigate along another.  SharePoint supports this quite well and even has views that are designed to directly support libraries which use metadata.
The problem is that tools which are based on a file system model don't understand metadata.  The model of navigating with folders doesn't work when you have no folders.  From the point of view of a structural — or folder-based — navigation, every file in the library is all in one folder: the root folder.  This is completely useless if you have tens of thousands of files all nicely categorized with metadata.
So while SkyDrive Pro is a great tool and I recommend it, it's lacking when you're trying to navigate by metadata.  In fact, I'd venture a guess that the cumulative problems navigating files via metadata with anything other than the web, has done more to hamper use of metadata than anything else.  We're already used to folders and they just work — most of the time.
Offline Lists
There's a good — but not perfect — option for files, but what do we have for lists? Outside of support for contacts, tasks and calendars in Outlook, there's nothing out of the box that will help you keep copies of your favorite list with you when you're traveling.  One could argue that you don't need lists when you travel or that you should export them to a spreadsheet and use them.  However, this misses the reason why you began using a SharePoint list in the first place.
SharePoint lists are great when you need to allow multiple people to work on the data at the same time and to make changes to different rows of the data without creating locking problems.  In a spreadsheet, only one person can be editing at a time (let's ignore co-editing for a moment).  In a SharePoint list, multiple people can be editing each row at the same time.  This is typically how work is broken up.  Each person is assigned a row.  So it's natural to use SharePoint for managing your lists — unless you need to have access when you're offline.
Do As I Do
There was a time when I suffered through the problems created by using Microsoft's out-of-the-box tools, however, as my organization has grown, my travel schedule has changed and I have become more focused on doing the right kinds of information management, I needed to change.  I couldn't face clients any longer trying to push them toward the use of more metadata and less folders knowing that I still fundamentally filed everything in folders.
So a few months ago I started using Colligo Contributor Pro (Email Manager + Briefcase) in earnest.  I had played with it before, but I hadn't ever really committed to using it. The difference is a breath of fresh air. If I want to synchronize files from SharePoint I can use Briefcase.  On the surface, the functionality looks roughly equivalent to SkyDrive Pro.  The files are available for me on my local system if I navigate through Windows Explorer.  However, there are some important differences even from Windows Explorer.
Briefcase uses an installable file system approach. What that means is that it shows up like another drive on your computer.  Each synchronized workspace shows up as a folder and then each library shows up under that.  This is roughly equivalent to having SkyDrive Pro synchronize files to a location on your hard drive — except that it's clear that your changes are coming from and going to SharePoint.  It also means that there are file options which are available with a right click. You can copy the SharePoint URL (to provide a link to someone) as well as editing properties for the document.  These are important additions if you want to primarily work with metadata and not file structures.
However, there's more.  The Briefcase application allows you to navigate the site and see the same views that you would see on the SharePoint site.  So if you have a view set up with sorting and grouping that will show up in the Briefcase.  That means you can really use metadata to navigate your files when you're using Briefcase.
You can also use Briefcase to manage list data, including updating items while offline.  That's important when you're using SharePoint as it's intended to be used, with lists, instead of Excel spreadsheets, and a great help to me as I assign tasks and coordinate work with the team.
I use Email Manager less, because I tend to file emails in my mailbox rather than on SharePoint, but some of my clients that use it swear by how easy it is to get emails into a SharePoint site where others can work on the information.  It's a great way to archive communications that were sent to a personal email address but is really a record of the conversation between the organizations.
It's a Matter of Information
While it is possible to get files offline if you're using SharePoint and you're committed to a folder structure, when you're serious about the amount of information you're managing, you may find that SharePoint's out-of-the-box tools just aren't enough.  It seems like each passing year moves me further and further into the grips of information overload.  Colligo Contributor Pro is helping me keep information overload at bay —at least for now.
Robert Bogue is a thought leader on all things SharePoint and an engaging presenter who speaks at events around the world.  Rob has been awarded the Microsoft MVP designation eleven times, and earned recognition as a Microsoft Patterns and Practices Champion. Rob holds certifications from Microsoft: MCPD, MCITP, MCTS, MCSA: Security, MCSE as well as CompTia: A+, Network+, Server+, I-Net+, IT Project+, E-Biz+, CDIA+.  Rob also served as a team member for the SharePoint Guidance.
He is the author of 23 books including, The SharePoint Shepherd's Guide for End Users: 2013, which is also available in a Wiki version as The SharePoint Tutor.  Robert is committed to "making the complicated, simple." Find out more about SharePoint made simple at, http://www.SharePointShepherd.com and follow Rob's blog at http://www.ThorProjects.com/blog/. You can also email Rob at Rob.Bogue@ThorProjects.com.