The new 2015 AIIM SharePoint Industry Watch Report just came out. We're pretty excited to see the results of a survey AIIM conducted with 422 IT professionals. Despite a positive increase in the use of SharePoint for enterprise content management (ECM) and document management (from 48% of organizations surveyed in 2012 to 60% today), only 11% reported that their ECM project has achieved all that they planned. A further "26% reported that their SharePoint ECM project has stalled, and 37% have struggled to meet their original expectations, for a total of 63% with suboptimal installations."
Figure 4: Thinking about the scope and development of your SharePoint ECM project,
how would you best describe progress? (N=321 with live projects)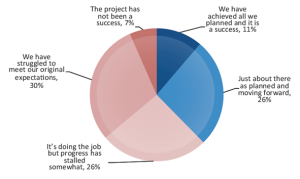 Why are most SharePoint ECM projects failing?  The answer lies in a lack of widespread adoption by end users – only 25% of respondents agreed with the statement "We have a good level of adoption and users like it". But why is that?
The study highlights that workers are not consistently filing their content in SharePoint. "60% of responding organizations struggle to persuade users to manage and share content in SharePoint and not elsewhere, and this is the biggest on-going issue. A small but significant 13% note that their users are drifting away to other tools, and this is probably an understatement given the known use of Dropbox, Box, Google docs, etc."
Figure 11: What are the biggest on-going issues for SharePoint
in your organization? (Max THREE) (N=296)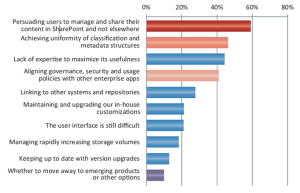 According to the study, a large proportion of knowledge workers still prefer to use file-shares to manage everyday content, in my opinion because they are more comfortable with the drag-and-drop interface to file-shares, making them preferable to the SharePoint browser interface for document management. Despite the fact that classification of content is a key success factor in a search or records management project, organizations struggle with accurate tagging and classification.
Figure 7: From the ECM/DM point of view, how would you describe the way your users
consider SharePoint? (Check all that apply) (N=301 live on SharePoint)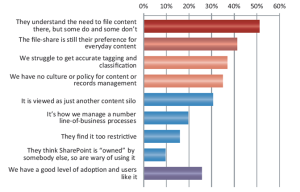 Most records managers I've spoken with agree that auto-classification tools are not ready for prime time, so it's up to end users to classify content manually. Unfortunately it's difficult, if not impossible, to get users to add metadata, at least not with the out-of-the-box interface. Today's workforce expects simple-to-use tools for accessing and sharing their files and applications in the office and when they're on the go. Employees don't want technology getting in the way of doing their jobs. They want to connect their own devices to enterprise content and workflows so they can be productive at the office AND remotely.
So how can organizations get end users on board so they get high user adoption rates and successful projects? That's the subject of my next blog post!
____
The complete 2015 AIIM SharePoint Industry Watch Report features 30 charts and graphs. As sponsors, we're able to share the full report with you for free – download your copy here.
If you're in the market for a third-party solution for SharePoint, please try Colligo Engage!