If you're worried about security when mobilizing SharePoint content, you're in good company.
In a recent webinar "Enterprise Mobility: Awakening the SharePoint Force," we asked participants how concerned they were about the security of SharePoint content on mobile devices. Just about everyone expressed concern:

Colligo Engage can keep your mobile SharePoint content highly secure in 5 ways.
At Colligo, we know that security is extremely important to all of our customers. That's why we carefully designed Colligo Engage to deliver high security with a light footprint.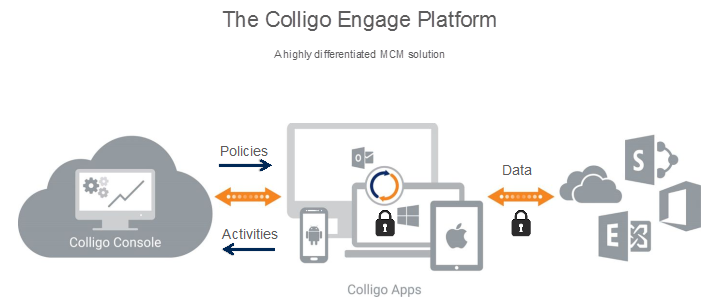 Colligo Engage separates control information (on the left of the diagram) from content (on the right). This separation enables the system to offer unparalleled security for all content. All information coming from repositories is encrypted in transit and at rest on mobile devices. And because the mobile devices connect directly to the repositories, without an intermediate hub, this solution is much more secure than alternative architectures. Colligo Engage includes a host of features to prevent data loss.
#1 – AD & Sophisticated Multi-Factor Authentication.
Authentication is key for a robust enterprise mobile content management solution. Colligo Engage integrates with Active Directory. Administrators can configure ADFS or Azure AD and Single Sign-On is supported. We also support sophisticated multi-factor authentication in our apps.
#2 – Remote Wipe, Blacklist, Disable "Open In" & Printing
The ability to wipe devicesis also mandatory, of course, for any mobility scenario. Colligo Console allows IT administrators to de-authorize devices or users and wipe sensitive corporate data. Other security-oriented policies are also supported.
#3 – Audit Trail Aids Data Loss Prevention & Identification
To make governance easy, Colligo Engage delivers on all the security advantages of client-side sync, tracking and reporting with the Colligo Console and the ability to apply consistent policies across repositories. The Colligo Console also provides the capability to prevent data lossby producing reports of activities down to the file level. This can help to identify areas of risk before data loss happens.
#4 – Passcode Protection with Automatic Data Deletion
All Colligo Engage apps are passcode protected. That code can be set centrally through the Colligo Console so that apps can be effectively disabled if a device gets lost or an employee leaves the company. Policies for the number of allowable retries before data is deleted permanently can also be configured.
#5 – Encryption In Transit & At Rest
To keep information safe, data within Colligo Engage apps is secured and encryptedin transit and at rest. We can also partner with leading MDM vendors for additional levels of security.
#6 – S/MIME (Secure/Multipurpose Internet Mail Extensions) Support
S/MIME is a standard for public key encryption and signing of MIME data, which is fully supported by the Colligo Engage platform.
Let's look at a real-world example: a technology company in the security software industry.
Our client wanted to develop a collaboration systemin SharePoint that enabled thousands of users to file emails and declare them as records. The wrinkle here was that the client has multiple partners that send them S/MIME encrypted emails.
So they needed to first decrypt the emails before filing to ensure that the emails could be read by others on the team and searched as part of the SharePoint collaboration solution. They successfully implemented Colligo Engage, and have now made S/MIME decryption available to all of our records management customers. Their enterprise content is both highly mobile and secure.
Want a highly secure mobile content management solution? Get your free 30-day trial of Colligo Engage here!