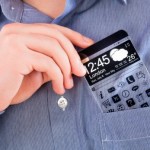 Are you glued to your smartphone? If you're like most smartphone users, your device is never far away.
A recent post from Re/code highlights a study by Facebook and IDC that shows 79 percent of respondents keep their smartphone at their side for nearly every waking hour of the day, and as just as many people report looking at their smartphone within 15 minutes of waking up.
The Re/code article asked whether application designers are starting to treat the smartphone as the primary device for getting things done. The answer, increasingly, is a resounding "yes."
It should be no surprise then that mobile apps to improve business processes are cropping up all over the place. In many cases, these business applications are even better than their desktop counterparts.
The old method of developing software is becoming inverted, with a growing number of applications being developed for the mobile audience first, with traditional desktop versions of the applications coming later, if at all.
There's a hidden benefit to thinking about the small screen first. With less real estate on the screen, there's no room for fluff. A desktop interface that's crowded with buttons and drop-down menus and other clutter won't cut in on a mobile device.
Simplifying the design for the small screen eliminates the confusion that comes along with a huge screen full of things to click on. It also demands a purposeful and user-friendly design.
A smartphone screen may be too small to effectively navigate through some important business applications. However, tablets and the increasingly popular "phablets" (the mid-sized amalgamation of a smartphone and tablet) are excellent candidates for developing mobile applications that are easy to use and have user experience at the forefront of their design. In the future, expect to see even more business applications available for mobile devices.
There's definitely a trend toward mobile devices being used to run businesses, and with the growing ubiquity of larger mobile devices like tablets, the most tuned-in companies are turning to the small screen.
While running your whole operation on a smartphone might not be feasible, the Re/code article rightly champions running a business with mobile applications whenever possible. "It's both a faster model and a more complete model, in which the technology truly disappears into its function of connection," Re/code reports.
As more workers demand the flexibility and convenience of working from a mobile device, expect this trend to continue.
Are you looking to learn more about how mobile applications could help your organization? Contact us today to talk with our team.
Source: Re/code, May 2014