In my last post I highlighted some of the SharePoint adoption gaps uncovered in the new 2015 AIIM SharePoint Industry Watch Report. This post will discuss strategies that can be employed to address them.
Over half of survey respondents agreed that users understand the need to file content in SharePoint but "some do and some don't". This lack of consistency is driven largely by usability. If it's easy for users and they see SharePoint adding value to their jobs, they will use it. If it detracts from their jobs, they won't. The key here is showing users what's in it for them.
Figure 7: From the ECM/DM point of view, how would you describe the way your users
consider SharePoint? (Check all that apply) (N=301 live on SharePoint)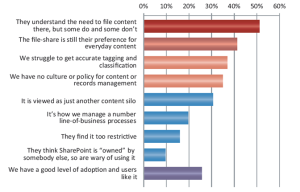 Users are generally looking for two things from an ECM system: ( 1) the ability to find relevant content when and where they need it and (2) the ability to share content with team members. All of this ideally happens with minimal training and works on all of their devices, both desktop and mobile. How can this be achieved?
Let's look at work patterns. The fact is knowledge workers live and breathe in email. Email remains the number one way they communicate and share files according to another recent report from Osterman Research. Email is still king.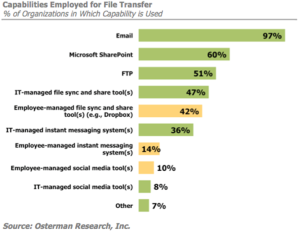 So how can enterprises be successful in making SharePoint their #1 ECM platform? Integration! That means making SharePoint available when and where employees are working in the context of their natural flow of work … by integrating SharePoint with Outlook … integrating SharePoint with file-shares … integrating SharePoint with mobile applications … integrating SharePoint with other enterprise applications. Integration is the key to driving user adoption of SharePoint for ECM.
AIIM reports that "36% already use third-party applications to enhance and optimize SharePoint." The 2nd most popular third-party applications in use today integrate Outlook with SharePoint. According to the 2015 AIIM Report, 23% of organizations have implemented a third-party tool – like Colligo Engage – to integrate Outlook and SharePoint, and this number is set to double in the next 12 to 18 months. Third-party Outlook tools help (1) improve SharePoint access within the most popular application for file sharing, reducing context switching, (2) drive email records retention and tagging in SharePoint, and (3) replace attachments with links so documents stay in SharePoint.
Outlook is just part of the integration story. Remote access, mobile access, and collaboration with parties outside the organization remain frustrating for users with out-of-the-box SharePoint. "Once we move outside the firewall, VPN connection is the most popular connection method (64%), despite being cumbersome to support, particularly on mobiles," reports AIIM. Third party applications – again like Colligo Engage – with smart syncing provide lightning fast access to content in SharePoint, Office 365, or One Drive for Business on any device (laptops, iPads, iPhones), connected or offline, in popular applications like Windows Explorer, Mac Finder, and Outlook for a ubiquitous, and happy, user experience. Solving these challenges for mobile and external access (which 35% of survey respondents have identified as frustrating with SharePoint) helps drive workforce adoption of the sanctioned ECM platform … reducing the threat from designed-for-mobile cloud collaboration solutions.
To solve these access challenge for external partners and mobile workers (and to reap the associated cost savings), some organizations are also planning to move some of their content to the cloud. AIIM reports "34% plan to move to SharePoint Online/Office 365 for all (7%), most (10%), or some (17%) of their content. Of the remainder, 15% plan to use private cloud (11% as hybrid), 14% will stay on-prem, and 36% are undecided." When looking at third-party tools, selecting one that supports Office 365 exactly the same as the on-prem SharePoint is important. Users get the same ECM experience within third-party tools while the organization transitions to the cloud or adopts a hybrid approach.
Figure 13: What are your plans for SharePoint in the cloud?
(N=251, excl. 33 Don't Know)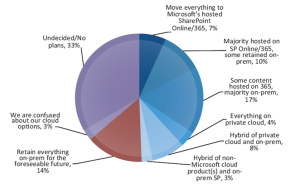 In my next post, I'll take a look at what AIIM discovered about integration of SharePoint with other enterprise systems. Stay tuned!
___
The complete 2015 AIIM SharePoint Industry Watch Report features 30 charts and graphs. As sponsors, we're able to share the full report with you for free – download your copy here.
If you're in the market for a third-party solution for SharePoint, please try Colligo Engage!