The recent 2015 AIIM SharePoint Industry Watch Report revealed a glaring gap in mobile device support for SharePoint. Only 2% of organizations surveyed reported widely supporting mobile devices! This is a major issue as CIO's are increasingly adopting a mobile-first enterprise strategy.
Figure 10: How would you describe your use of SharePoint in the following
process management and enterprise connection areas? (N=304)
The browser-based SharePoint experience on mobile devices doesn't cut it. Anyone who's tried to find, open, edit, and save a document in SharePoint from a mobile device knows the experience is excruciating, especially if you have a poor connection or are working offline. The report states that "the lack of mobile support and the difficulties of external access have been frustrating (35%), and 20% feel that SharePoint is under threat from designed-for-mobile cloud collaboration products and services."
Organizations are increasingly turning to third-party solutions, like Colligo Engage, to fill the mobility gap. Of survey respondents, 11.9% are using a third-party solution today to provide mobile access to SharePoint. An additional 32.1 percent have firm plans to deploy a third-party mobile SharePoint solution in the next 12 to 18 months – in fact, over that time "mobile access" represents the highest anticipated area of investment for third-party products for SharePoint.
Figure 17: Which of the following third-party enhancement products for
SharePoint have you implemented/plan to implement? (N=256)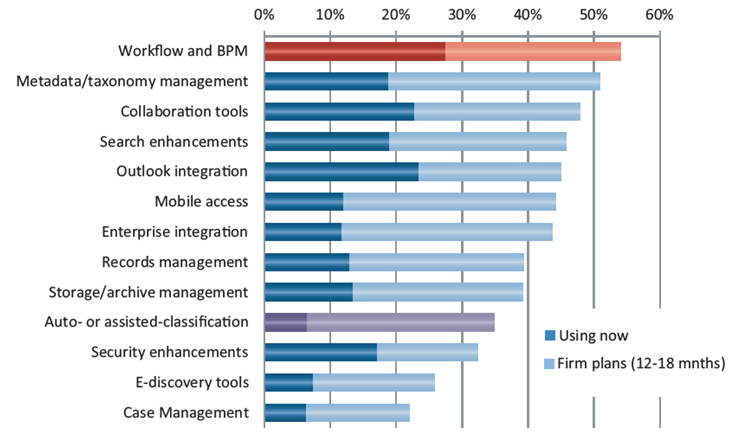 To the 32.1 percent of you looking to adopt a mobile solution, I would like offer some words of advice.
1 – Do it! It's what your workforce expects. Today, employees expect simple-to-use systems for accessing and sharing their files and applications in the office and on the go. By meeting the expectations of your mobile and remote workers, they'll keep your important corporate information in SharePoint, rather than straying to non-sanctioned cloud systems. Great third-party solutions are available today, so why wait?
2 – Cache & sync! The remote enterprise system experience can be painfully slow and fraught with usability challenges. To ensure your remote and mobile workforce relies on your sanctioned systems, response times need to be lightning fast, online and offline. Look for a solution with robust syncing to keep your employees productive in the office, at home, and on the road.
3 – Track it! Many organizations simply block unwanted services at the firewall … that's becoming less and less possible. The smart alternative is to manage risk through visibility into what employees are doing with content. Tracking provides an audit trail so you know what's going on and can provide a tangible record. Look for a solution that logs user activity and provides practical analytics so you can better manage risk.
4 – Control policies at the device-level! Information management policies can help enforce compliance with legal and governmental regulations or internal business processes. Look for a solution that extends  SharePoint policy settings by introducing policies that are applicable in the mobile world – for example whether certain content is permitted to be synced to a mobile device, or to wipe data remotely from mobile devices when, for example, a device is lost.
5 – Manage security! The next tip is to plan for the pitfalls of security on mobile devices. When picking mobile business apps for employees to use, make sure that the software vendors have passed a thorough security audit. Look for vendors with bullet-proof security track records, proven by a strong customer base of global enterprises. Ensure the mobile solutions leave your data on the servers you already use for enterprise content management (such as SharePoint) so you don't have to copy content to risky cloud-based file sync and share systems to get the usability users demand. Ensure data within the apps are secured and encrypted according to the highest industry standards.
Follow these tips and you can safely embrace BYOD and make SharePoint available anywhere, anytime, without sacrificing security. May SharePoint be with you … wherever you go.
—-
The complete 2015 AIIM SharePoint Industry Watch Report features 30 charts and graphs. As sponsors, we're able to share the full report with you for free – download your copy here.
If you're in the market for a third-party mobility solution for SharePoint, why not give a try to the #1 solution for SharePoint – Colligo Engage!