If you missed last week's webinar "Making Sense of the SharePoint Hybrid Hype with Bill Baer," you can now watch the recording or download slides here.
Over 1000 IT professionals registered for the event…  So what did we learn? Is hybrid all hype or reality?
Hybrid Is a Reality Today & It's Here to Stay
During his presentation, Bill shared that "26% of Microsoft enterprise customers are 'on the road' to the cloud." And during the live webinar poll, participants confirmed their own plans and progress around hybrid:
19% reported that their organization has already adopted a hybrid approach
4% are on their way to becoming 100% cloud
70%  are "considering & evaluating" a hybrid approach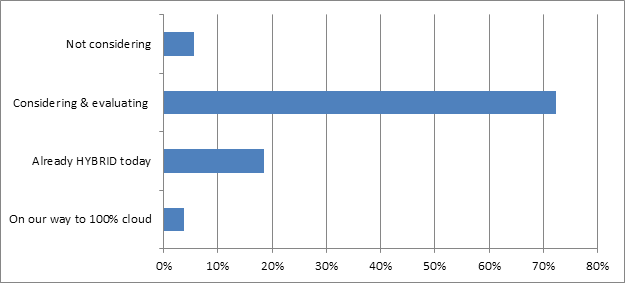 Where do you consider your organization to be with hybrid?
So while not everyone is "sold" yet on hybrid, the vast majority are certainly thinking about it and weighing the pros and cons. So what is holding some organizations back?
62% of webinar poll respondents were concerned with security
45% with governance and regulatory compliance
44% with user engagement and confusion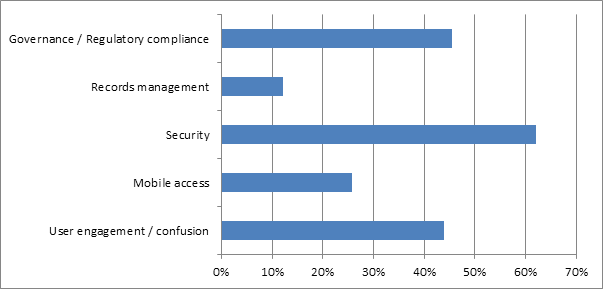 Which of the following cloud/hybrid issues are you concerned with?
Colligo's own product manager Ben Henderson presented three tips for driving user engagement and minimizing confusion in a hybrid environment. He shared how organizations can (1) minimize end user impact, (2) get the right content on the right devices, and (3) provide one pane of glass to enterprise content. Information workers don't care where the information is stored, they just want quick, easy access so they can get their work done. By pushing the right content to users, through one pane of glass, across all their devices, IT organizations can reap the benefits of the cloud while avoiding confusion about how to access enterprise content. By gaining control and visibility over what enterprise content is used and where, IT organizations can also address security and regulatory compliance. Watch the recording to learn more.
We also polled attendees on the type of content their organizations want to move the cloud … and found that personal storage and projects sites are the first workloads to go.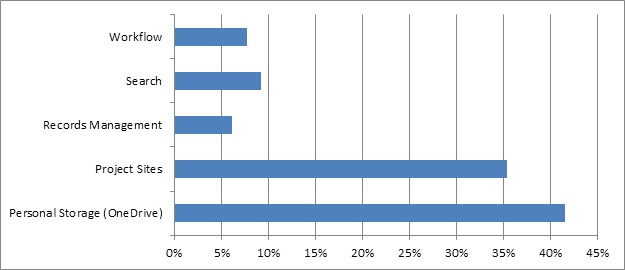 If applicable, what would be the first workload you would move to the cloud?
Bill Baer discussed the evolution of hybrid … from a cloud migration strategy in the past … to an enriched computing experience today that allows IT to provide more value to users. He shared how hybrid will continue to evolve at Microsoft to better tie experiences together by providing innovative cloud experiences to traditionally on-premise content, improving traditional scenarios like collaboration, records management, and enterprise content management.
We had lots of questions  from participants who want more hybrid answers and tips. If you're already following a hybrid approach or considering it, watch the recording or give us a shout to talk about ways to make it easier, less confusing for your employees.