Today we are releasing some exciting new features to the Colligo Engage Outlook App. In this post I will walk you through the new features available in version 7.1.
File Emails and Attachments Separately
A lot of our customers use the Colligo Engage Outlook App to be able to quickly file emails and attachments from their mailbox into SharePoint and Office 365. With this new feature, companies who wish to split out the attachments from emails as part of the upload process can enforce this setting for their users.
The configuration setting that you will need to enable in the registry is here and the column that you will need to create in the Document Library is called 'Attachment ID'.
Outlook View Improvements
We recently introduced the Outlook View as a great way to view and interact with your SharePoint content from within Outlook. In this release, we have made 2 new improvements in this area.
When you select a location in the Outlook tree and (1) you don't have connection to the SharePoint library plus (2) you don't have the content stored offline, we will now inform the user that there is no connection rather than displaying just a blank window.

We also have integrated an online mode for when you don't have the content cached locally and don't wish it to be. In this case, the Colligo app will go directly to the SharePoint site (if we can get there) and display the information within the location in the Outlook View, allowing you to view and open the content.
Upload Progress Window
In the Connected mode of the Colligo Engage Outlook App we display upload statuses of items as they are being moved to SharePoint. This Progress pane is automatically displayed every time you start the upload, but with this new release, users can now change the behaviour of the progress pane so that it only displays if there is an error with the upload.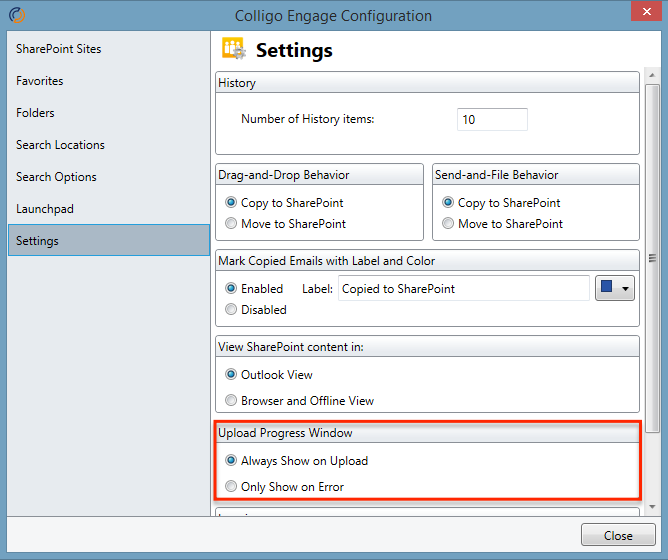 If users move or change the size of the progress window, the application remembers this and persists this setting for the user.
Add more than one attachment or link to an email
We have had great feedback on the attachment handling buttons that we put into the new email window and we have added the ability to now be able to add more than one link or attachment at a time to a new email.
Obviously, we have continued to improve the quality of the product with this release and more detail of fixes can be found in the release notes.
We Want to Hear from You!
Please give us your feedback and comments on these new features below as we try to continually improve your experience with our products.
For More Info
Our Outlook app is included in the Colligo Engage Complete and Email plans.
>> See our pricing plans here.
>> Read more about our SharePoint/Office 365 email management solutions here.