To kick-off the new year, we've hand-picked some of our most popular resources. Whether your 2016 plans include mobilizing SharePoint, capturing emails in SharePoint, distributing SharePoint content to field workers, or rolling out a hybrid SharePoint-Office 365 strategy, we hope you find some good advice and inspiration in the following pieces!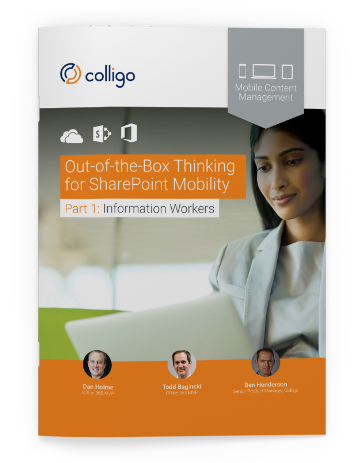 Out-of-the-Box Thinking for SharePoint Mobility
Part 1: Information Workers
by Dan Holme, Todd Baginski and Barry Jinks
Discover what's possible with out-of-the-box SharePoint, Office 365, and OneDrive for Business… and where Microsoft falls short in meeting the mobility needs of information workers and security requirements of the organization. Bonus: The ebook includes a "Requirements Checklist" and a "Configure, Build or Buy Matrix" to help you select the right strategy. >> Read ebook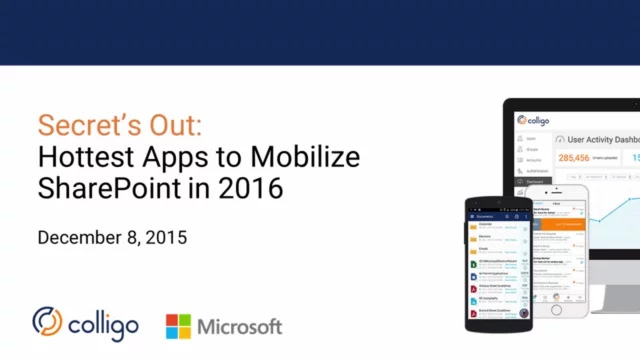 Secret's Out: Hottest Apps to Mobilize SharePoint in 2016
with Bill Baer and Barry Jinks
Get the scoop on the hottest new mobile content management apps and analytics solutions to hit the market this season. Discover what's new in Colligo Engage and SharePoint 2016 to fast-track mobile scenarios like document distribution, mobile collaboration and email management. >> Watch recording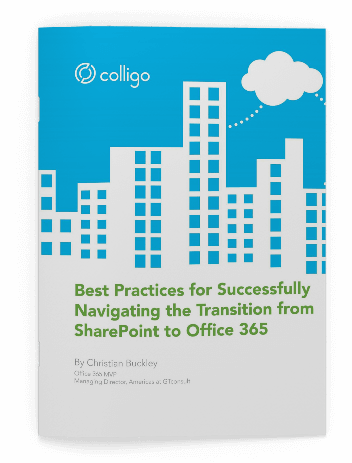 Best Practices for Successfully Navigating
the Transition from SharePoint to Office 365
by Christian Buckley, Office 365 MVP
Microsoft talks about "cloud first, mobile first" and to successfully navigate a move from your existing infrastructure to the cloud, there are a number of tactical and strategic considerations. Read this guide to better understand the nature of a hybrid strategy, to choose the best planning approach for your organization and to uncover best practices for a successful navigation to the cloud. >> Read guide
Planning for Mobile SharePoint Success: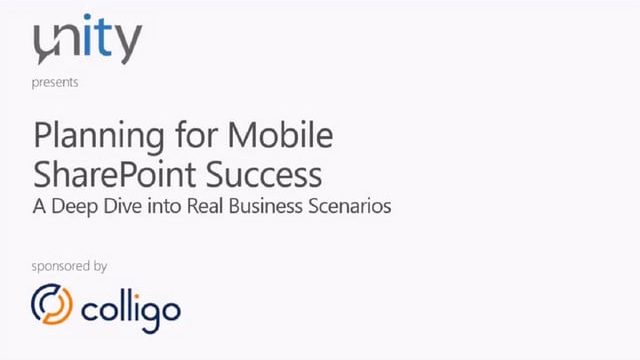 A Deep Dive into 4 Business Scenarios
with Dan Holme, Todd Baginski and Barry Jinks
Does out-of-the-Box SharePoint/Office 365 fall short of your mobility needs? If you're looking for a complementary solution to keep your workforce productive, watch this deep dive into 4 business scenarios to help you evaluate your mobile requirements, identify success metrics, and select the optimal strategy for your organization. >> Watch recording
Connecting & Optimizing SharePoint, Important Strategy Choices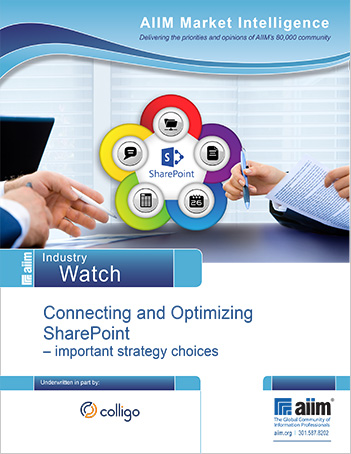 an AIIM Industry Watch Report
According to the new AIIM SharePoint Industry Watch Report, only 2% of organizations surveyed widely support mobile access. Read this data-packed research report to better understand what others have done for optimizing their SharePoint implementation and what their plans are. >> Read report
5 Pitfalls to Avoid when Mobilizing SharePoint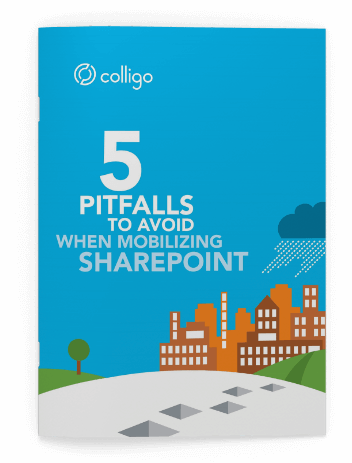 by Colligo
Mobilizing SharePoint can be complex. To get it right the first time, there are obstacles every IT leader must navigate successfully. An easy read with powerful insights, this guide uses real mobile business scenarios to illustrate alternative ways to think about SharePoint mobility and provide new ideas for successfully driving mobile worker productivity. >> Read guide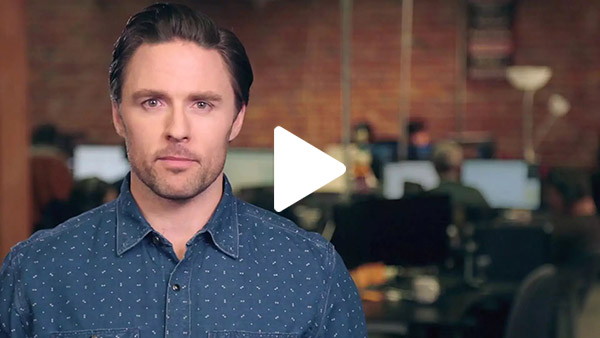 Colligo Engage Mobile Content Management:
Platform Overview
Check out our new video to find out what's new and unique about the Colligo Engage Mobile Content Management Platform. >> Watch video
From everyone at Colligo, we wish you all a happy, healthy and peaceful 2016!