SharePoint is not an island in enterprises … more and more often it's being integrated with other enterprise systems. According to the latest AIIM SharePoint Industry Watch Report, the three most popular enterprise systems being connected to SharePoint today include other ECM/DM systems (14%), CRM/services desk applications (13%), and formal project management systems (12%).
How is SharePoint being used? According to AIIM, "15% use SharePoint as their search and access portal across other repositories, but 44% are planning to go that way. Aligning governance, security and metadata is given as the biggest problem."
Figure 22: What have been your biggest issues with connecting
SharePoint to other enterprise systems? (N=167, excl. N/A)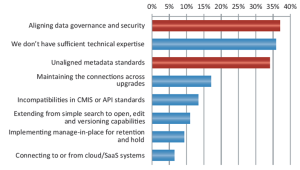 There's clearly a huge need for common governance across disparate repositories. At Colligo, we've invested in integrating our award-winning apps with SharePoint, Office 365, and One Drive for Business. We're now making new investments to connect SharePoint with other systems, providing a common governance framework across them all.
So we'd like to find out which systems you'd like us to consider supporting. Please let us know what you think in the comments below!
>> Which applications/systems would you like to see Colligo Engage support to provide a more integrated experience for users?
Documentum
Open Text
SAP
Box
Dropbox
Google Drive
File shares
Chatter
Yammer
Other?
Thanks!
____
The complete 2015 AIIM SharePoint Industry Watch Report features 30 charts and graphs. As sponsors, we're able to share the full report with you for free – download your copy here.
If you're in the market for a third-party solution for SharePoint, please try Colligo Engage!