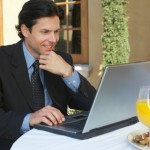 When you think of "mobile employees," what pops into your head? It's probably employees who frequently travel for work or those who work remotely. But don't overlook employees who work in an office environment and spend most of the day away from their desk.
Citing research from the Corporate Executive Board, an article on IT Business Edge reports that 30 percent of employees "are working in a mobile fashion within the work site," and as a result need mobile collaboration capabilities that allow them to work everywhere from offices and cubicles to conference rooms and cafeterias.
Most of those employees aren't happy with the mobile capabilities that their organizations offer. In fact, 70 percent argue that IT should do more "to support their collaborative, mobile work" by providing uninterrupted access to key applications and information.
This reinforces the need for organizations to offer enterprise-grade applications internally. Otherwise, employees are likely to turn to consumer-grade applications, which may not be sanctioned for business use and therefore are often inherently risky.
The key is to retain control over information by offering approved mobile applications that provide employees with the flexibility they need to do their jobs and gives the organization the governance it requires to meet security policies.
Be sure to reach out to employees for feedback and suggestions. For instance, do they spend several hours every week in virtual meetings? If so, find out what problems they typically experience, and what solutions IT could provide to help.
As the IT Business Edge article notes, the CIO and IT department increasingly are expected to take on a "more collaborative role within the larger organization," and so it's important to torpedo roadblocks that prevent employees from having easy access to mobile collaboration. Without offering robust internal enterprise-grade applications, employees are going to keep getting stuck on these roadblocks.
Did you know that 78 percent of companies report full ROI on their Colligo investment in less than one year? Calculate the benefit to your organization and learn more by downloading our whitepaper. 
Source: IT Business Edge, April 2014