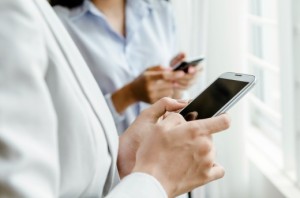 It's no secret that bring-your-own-device (BYOD) is an increasingly popular trend in the business world. Citing research from Frost & Sullivan, a recent InformationWeek article reports that about 70 percent of U.S. organizations expect to embrace BYOD this year, with that figure jumping to 78 percent by 2018.
Allowing employees to use their own mobile devices for work comes with benefits and challenges. Studies have shown that BYOD leads to higher employee satisfaction, increased productivity and cost savings for organizations. On the other hand, managing personal devices often feels overwhelming for IT, and security risks are always a concern.
What factors should you weigh when considering a BYOD strategy? Start by looking at these three, as outlined in the InformationWeek article.
Begin with a pilot program: Organizations need to carefully evaluate BYOD before rolling it out to the entire organization. Be sure to gather input from members in all key departments, such as finance, operations and human resources.
Plan for costs: While BYOD may save your organization money in the long term, BYOD doesn't come at no cost. Consider whether you should invest in infrastructure technologies to make BYOD work better. If such investments help to make users more productive, they're likely well worth the initial upfront cost.
Focus on guidance over training: It's not realistic to offer training for every device available; there simply are too many devices on the market. For that reason, it's best to support a large variety of devices and provide guidance on how to best use the tools in your environment. For example, you might show how to access corporate email or the CRM system using a mobile phone. By providing more generalized guidance, you'll enable employees to use the device of their choice, but your IT support team won't need to understand the intricacies of every employee's device.
Preparation is the key to making a BYOD strategy work. Use these tips as a starting point when exploring the possibility of implementing BYOD in your organization.
Source: InformationWeek, March 2014