Microsoft Business Productivity Specialist Yannick Nadeau shares 5 ways you can extend the reach of SharePoint by distributing the right content at the right time across employee devices.
Learn how Air Transat leveraged these tips to digitally transform crew operations by extending SharePoint Online. Paper-based processes were eliminated, with all flight information centralized in SharePoint and automatically distributed to flight director iPads.
The results? Air Transat reported a 91% satisfaction rate among crew, streamlined regulatory compliance, and captured major time savings for their 350+ flight directors operating 16,000+ flights annually.
If mobility is on your agenda for 2017, watch this video excerpt or skim the transcript below!

Yannick Nadeau, Business Productivity Specialist, Microsoft
"Hello, everyone. My name is Yannick Nadeau. I'm the Office 365 Business Productivity Specialist working at Microsoft and working with Transat for a few years now. Basically, what Transat went through is what we call a digital transformation. For them to go into a digital transformation basically meant: let's take all the documents, the paper version of our documents, and let's digitalize them and make sure that people can access them.
As you can imagine, there are a ton of documents required by the flight directors and their crew to make sure they can do their work. Air Transat needed to keep those official documents in many places. Head office is one of them, the airport, crew lounges, the aircrafts. As soon as they needed to update a document, they needed to print the document and make sure that the offline copies were updated all the time. Multiple times, they needed to be updated everywhere.
Once the documents were digitalized, they were stored centrally in SharePoint Online. By being centralized in SharePoint Online, they were also available for anywhere access. SharePoint Online enabled Air Transat to centralize, structure, and classify a large volume of documents for their crew, including relevant personnel documents, instructions, aircraft manuals, HR documents, and any training videos stored directly within SharePoint.
With the flight directors being always on the move, Air Transat equipped them with tablets. They equipped them with the iPad Mini. Since tablets must be switched to airplane mode when they're flying, Air Transat needed a way to ensure the right content was synchronized to the tablets prior to flight directors onboarding to ensure uninterrupted and easy access to content. This is where Colligo Engage brought value to the digital transformation.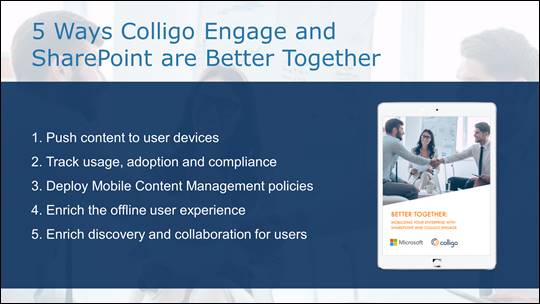 Let's go through them one by one. The first one: push content to user devices.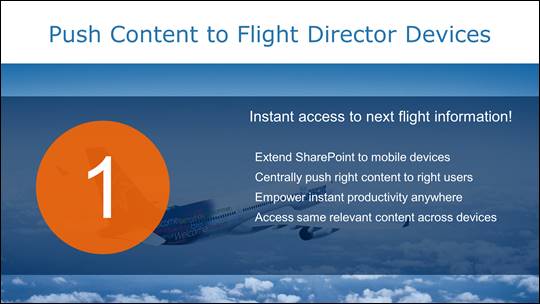 Flight directors and crew are busy, right? They have a lot of things to think of, and they are always on the go. They're moving from flight to flight, from flight to shuttle, from shuttle to hotel. They don't need extra things to think about. They simply need to know that the information that they will need to operate a safe flight for their passenger is already available on their tablet when they need it.
At Air Transat, the IT solution team uses Colligo Console to centrally control the distribution of electronic documents and forms. Then all the team needs to do is to review the activity dashboard to track usage metrics. Data for an upcoming flight is saved in SharePoint Online by the head office and automatically pushed along with governance policies to the appropriate tablets using Colligo Console.
By extending the value of SharePoint Online as a content app, Colligo enables the ability to push the proper content and locations to the proper devices to each user. The way it works with Colligo is that the content is published with attributes to a specific user, so no matter which device the user logs on to, they will always see the exact same content. The content is relevant for their work, for their task.
A manager can also configure Colligo Console to push content or any location to specific users. The manager can extend the current digital process with third-party applications by using Colligo's APIs. For example, they could use Microsoft Flow to extend the process with Colligo.
The overall objective was to ensure that all the required content needed by flight directors to do their job was always available in one place and to eliminate the burden of maintaining physical copies. Only one electronic copy needs to be managed.
Martin [Lachance from Air Transat] already showed some screenshots about reporting.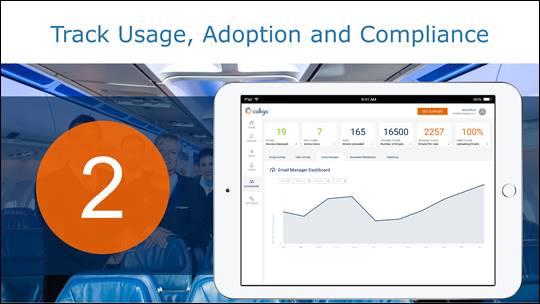 The key point was to make sure that the IT department was removed out of the process of gaining information about usage, about tracking who's using the platform, making sure that they can monitor the compliance.
Colligo comes with tons of dashboards, and the dashboards can be used without the involvement of IT, so directly by the business directors, business managers. They can use the dashboards to, for example, discover the adoption either by site, by users, by devices.
They can also use the dashboards to execute deep analysis and reporting on document compliance. If they want to make sure, for example, that flight directors read a document or viewed a video before boarding a plane, they can use the Colligo platform to ensure it is done. The dashboard is a great way to ensure that compliance is also met by the end users.
The third thing is to deploy mobile content management policies.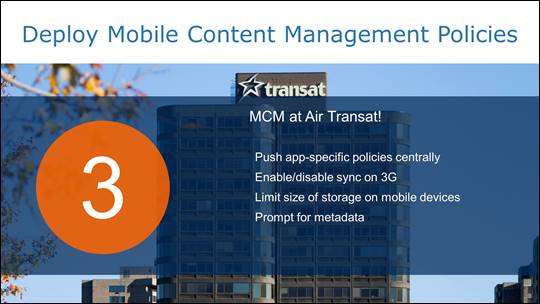 As you know, with Microsoft we have a platform for mobile device management called Intune. Intune is our tool to manage mobile devices and assign policies to control which devices can connect to the platform and to make sure there is compliance before being able to connect to the platform.
For Air Transat, one of the challenges was not to manage the devices, but to manage the content on the devices and access.
With Colligo Engage, every tablet has every document needed for a flight, both online and offline. They wanted to make sure that the synchronization was done with the SharePoint Online repository as soon as the tablet went online. Colligo extends this process to the business by enabling mobile content management using Colligo Console.
Using the Colligo Console, the business department was able to centrally push the policies directly from the Colligo applications, but also push the proper content to the end user. Also, to make sure that the devices are well configured … so making sure that the devices are able to either synchronize or not by using the 3G connection. Also, limit the size of the storage on the device. And, if they needed to prompt for metadata to be added to specific documents or confirm specific document or library, it can also achieved by using mobile content management policies within the Colligo Console.
The fourth thing is to enrich the offline user experience.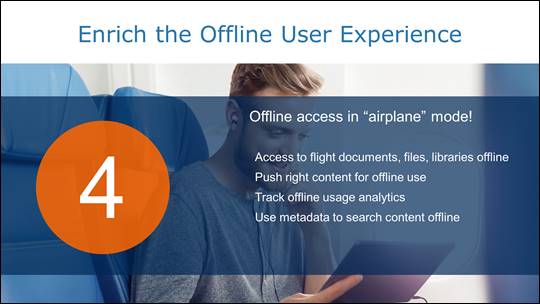 With Colligo Engage, flight directors now have access to all the latest information. Like I mentioned in the last point, as soon as they connect online, synchronization will occur and the latest content will be synchronized. Only files that have been changed are synchronized so synchronization is really efficient. It's really fast. With one click they can quickly find information.
The users can quickly find information they need and focus on what they have to do – to basically make sure that the flight is pleasant. And they can respond to a passenger question really quickly.
When we talk about SharePoint Online, we usually rely on OneDrive for Business to sync files for offline use. With Colligo, you can now control sensitive company data that requires corporate governance. It gives you granular control over what content can be taken offline. Instead of having the end user select an entire library to be synchronized offline, now with Colligo, I will target specific content to be offline for my end users. This ensures that Air Transat can mitigate risk while establishing corporate policies.
With Colligo Engage, the user can take file, folders and libraries offline. The manager can also designate specific content that will be pushed to a group of users who need it to be offline. Managers can also get offline usage analytics by using, of course, the dashboards. And workers can also search on metadata while being offline.
The next thing is to enrich discovery and collaboration for users.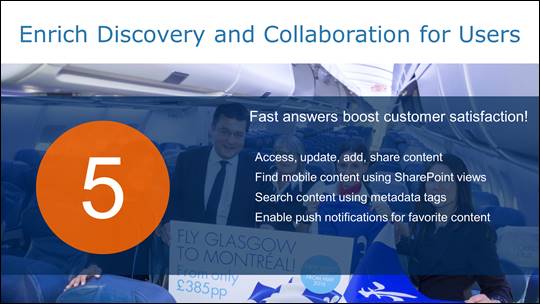 Microsoft OneDrive will enable users to auto discover sites in SharePoint and Office 365, upload, download, add files to the device. Colligo will basically extend those capabilities for the SharePoint solution.
With Colligo Engage, the user can add, access and share content between different SharePoint sites regardless of the platform where they are deployed. So if your SharePoint is on-premises by using for example SharePoint 2013 or if you are using a hybrid scenario where you have SharePoint on-premises and SharePoint Online, Colligo Engage will leverage both environments and will let the users copy and move information from both environments.
SharePoint view support, if users have a lot of content in library, can filter based on metadata. As you know, there are a ton of documents or a ton of information that can be stored in a single SharePoint library. The challenge is to make sure that your view will permit you to see all of that. Also, it becomes inefficient if you have too much information in the view.
With Colligo Engage and by using metadata you can sort, view and filter information that will be displayed to the end users. Users can also use metadata tags to execute their search.
Flight directors and users can also mark documents as being their favorite so they can have quick access to those documents. For example, if a flight director needs to do an announcement when they are onboard, to avoid needing to search it, they can flag or tag it as being a favorite document. It will become easily available both online and offline when they need to have access to it.
Finally, users can enable push notifications for documents they have identified as favorites. If I marked an announcement to be one of my favorites, as soon as there is a modification to that specific document (let's call it an announcement), I will receive a push notification on my device to tell me know that this document has been modified.
Air Transat did a survey to find the satisfaction rates for the Colligo solution that they deployed. They got a 91% satisfaction rate – I believe that is simply amazing!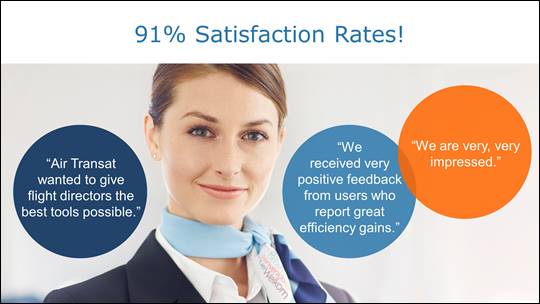 By deploying the Colligo Engage platform, it has enabled Air Transat to eliminate paper-based processes as a green initiative. They don't have to reprint an entire bulky manual. It removed all that burden.
It provided flight directors with a one-stop shop for information; improved operations with easy, fast access to documents; and delivered the best inflight experience with offline data access, which is key for them. If the flight directors don't have access to Wi-Fi – their devices need to be in airplane mode when they fly – offline access was key.
It optimized flight director productivity and employee satisfaction, improved central information, and finally met regulations more efficiently with electronic flight manuals. It was becoming difficult to maintain good control on where the information was stored and making sure information was not leaked and lost. Controlling data electronically makes it easier for Air Transat.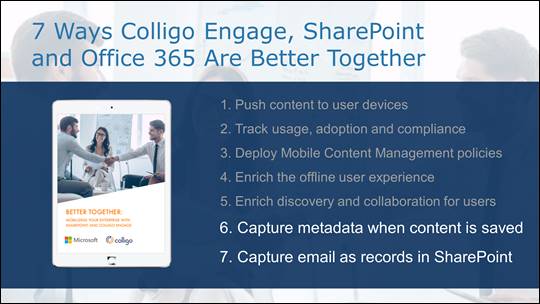 Microsoft and Colligo worked together in writing an eBook. The eBook includes seven ways that Colligo Engage, SharePoint and Office 365 are better together. You can find more information at Colligo.com. Download the e-book. Read it. Of course, it's going to contain more information."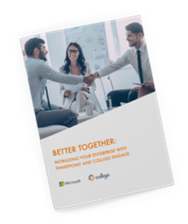 New eBook, "Better Together: Mobilizing Your Enterprise with SharePoint and Colligo Engage."


Genèse Castonguay, Marketing, Colligo
"Hi, this is Genèse joining you from Colligo. Thank you very much Yannick for your insights in today's presentation. It's always such a pleasure to share customer success stories, and I'd like to congratulate the team on their successful digital transformation using SharePoint and Colligo Engage.
Our platform is used by companies around the world in a range of industries from airlines, as you saw today, to law firms, to energy and utility companies. Four of the top five oil and gas companies are also using our product.
All of these organizations are looking for ways to extend their existing IT investments in Microsoft SharePoint to enable their digital workplace.
Colligo brings expertise to processes in which there's a high degree of information governance required either for internal or regulatory reasons. Many organizations find that user adoption of governed processes is a critical issue. Our Colligo Engage platform combines intuitive, user-friendly apps for workers with the control and ability and visibility that enterprises require.
We do hope you'll contact us to learn more about our solutions and the companies like Air Transat that we work with. You can do that by going to our website at Colligo.com."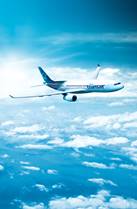 In the live webinar, Guy Garon, Vice President for Information Technology, and Martin Lachance, Director of IT Solutions at Air Transat joined Yannick Nadeau to share their own story. Learn how they eliminated paper-based processes by quickly using their existing SharePoint system and Colligo Engage to push crew documents and flight manuals to the iPads of flight directors, empowering them to create award-winning in-flight experiences.
Play the full webinar recording now!