Enterprise mobility isn't the next big thing anymore; it's here now! Multiple forces have come together to make it a reality, but the challenges faced by IT have become more complex and critical to business success. From supporting field teams to unlocking mobile productivity for entire organizations, IT sits squarely at the core of mobile transformation.
With flat or decreasing budgets, how does IT break away from the limitations of non-mobile optimized stacks and lifecycle thinking? What can IT do to ensure that their mobile infrastructure allows data to be treated as value-laden digital inventory? How can organizations balance governance and user productivity?
Get answers at this month's webinar hosted by Redmond Magazine:
Enterprise Mobility: Awakening the SharePoint Force
Date: Thursday, March 29th, 2016
Time: 8am PDT / 11am EDT / 4pm BST
In this webinar, Chris Marsh, Research Director, Enterprise Mobility at 451 Research and Barry Jinks, CEO and Founder at Colligo, explore 3 current challenges in mobile content management and present strategies to tackle them the right way with SharePoint:
Providing governance with new stacks, technologies and workflow requirements
Maintaining security and managing risk
Ensuring that the shift to mobile delivers productivity
If you're responsible for enterprise IT, SharePoint mobility or field team leadership, this webinar will give you new insights and strategies to drive your business forward and unlock the full potential of SharePoint enterprise mobility.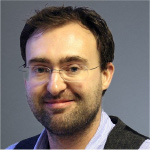 Chris Marsh is Research Director of Enterprise Mobility at 451 Research. He focuses on analyzing the impact of mobile, social and cloud technologies on enterprise and service provider business models. He is on the editorial advisory board and is a regular contributor to Mobile Enterprise Magazine, and is on the advisory board of the IQPC Enterprise Mobility Exchange conference events and of Enterprise Apps World.
Even if you can't make it, register anyways and we'll send you the recording!