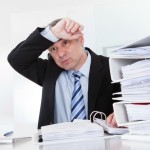 Think back to the simpler days when all documents were paper-based. You could take a look at the content, decide whether it should be retained, declare it as a record, slide it into a folder and then store it in a file cabinet.
These days, there's a lot more than just paper documents to keep track of, and the volume of information keeps growing. As a result, traditional records management no longer works, Nick Inglis explains in an interview with SearchContentManagement.com.
Inglis, a leading expert on information management, argues that records management needs to evolve into retention management.
"Instead of the core of our focus being declaring information as records, [we should] look at the core of our function in reducing risk and ensuring compliance as classifying all information within the organization, and then applying retention around that classification," he tells SearchContentManagement.com.
And that applies to all content — including email and social networking messages. For many organizations, email represents the greatest amount of content. Failing to properly manage email communications could expose your organization to costly legal and regulatory consequences.
Furthermore, information may not even be stored within your four walls, with the proliferation of the cloud and bring-your-own-device (BYOD). For example, are users storing information in cloud-based file shares? If so, that's likely data you're going to want to manage and have control over.
As a result of all these changes, every piece of content needs to be retained and managed, with organizations taking a broader view of records and applying that across all information. Inglis recommends focusing on length of disposition along with how to form taxonomy and classification schemes.
A manually-driven, paper-based approach to records management — or retention management — simply doesn't work anymore with the explosion of information from multiple sources. Information governance must evolve with the modern landscape for organizations to securely manage content and make it more accessible.
Are you looking to solve your email records management challenges? Learn how Colligo is able to help with enterprise-class email and document management solutions for desktop and mobile devices.
Source: SearchContentManagement.com, March 2014