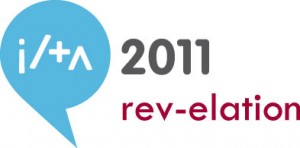 ILTA 2011 took place in the Nashville Tennessee, the country music capital of the world, and like last year, the conference was very well run and successful.  Colligo was invited to exhibit as part of the Microsoft booth along with Applied Information Systems (AIS), K2, and BA Insight.  A special thanks to the Microsoft crew for hosting us this year, we are grateful for their support and hospitality.
Along with SharePoint, Microsoft was highlighting their mobile and slate technology at the conference.  As a recent Windows 7 adopter (and advocate), I was able to get up to speed on my Samsung Focus device and the upcoming Windows 8 / Mango release.  Windows 8 is slick and there will be more than enough apps available. In fact, I'm using the American Airlines app right now for paperless check in.  There is a lot of hype is around Android and Apple these days, but I am optimistic that Microsoft is finally on the right track and will quickly grow their market share.
As a general observation, the legal industry has been slow to pick up on many new technologies and for example, is still heavily invested in the Blackberry world. However, their upgrade and budget cycles are playing in Microsoft's favor based on the conversations I had with visitors to our booth.  While I believe that Microsoft will do better than expected in legal with their mobile strategy, the same is not true in the slate / tablet market.  iPad uptake is very strong and is starting to be used heavily in legal for document review.  There are certainly technical issues, but lawyers have these devices at home and are starting to use them for work. This is a classic consumerization of IT story.
Colligo was at the show to discuss SharePoint as a document management system (DMS) for legal (specifically our email management solutions for SharePoint) and to support Microsoft in moving firms from Autonomy and OpenText to SharePoint.  The legal DMS market is slow moving, but firms are definitely starting to move.  For a few years now, we've seen smaller firms moving to SharePoint since the legacy legal DMS systems are prohibitively expensive and the improvements offered in SharePoint 2010 have made it a viable option as a legal DMS.
At ILTA this year, Clifford Chance was a headline story as they have recently adopted SharePoint as their DMS.  To my knowledge, this is the first large legal firm to go public on their SharePoint deployment.  It certainly is not a tipping point, but momentum is building and Clifford Chance is a very established global firm and an excellent reference for SharePoint.
In listening to the presentation, I was struck by the approach Clifford Chance took to their project.  Rather than trying to replicate all the functionality in their current DMS (which was heavily under-utilized, as so many are), they gathered requirements and invested time in really understanding what their users were trying to accomplish day-to-day and designed their SharePoint DMS and supporting tool set to address these requirements .
This enabled Clifford Chance to leverage the entire Microsoft stack without having to spend time and resources supporting functionality that was never used with their legacy system.  On a feature by feature basis, SharePoint 2010 (along with 3rd party tools like Colligo) can now match OpenText and Autonomy.  Conversely, OpenText and Autonomy cannot match the much broader benefits that SharePoint offers (along with the native integration across the Microsoft stack) and given the billions that Microsoft invests in R&D, it is doubtful they will catch up.
If a legal firm wants to move to SharePoint as a DMS because they are tired of paying expensive licensing, maintenance, and consulting fees to feature rich, bespoke legal DMS vendors and want to leverage the cost savings available with more main stream platforms (i.e. SharePoint), then they will need to be somewhat flexible on the feature set. Clifford Chance took the middle road where they built out/bought what they needed, but ignored the rest.  This is an excellent strategy and one that really resonated with the audience at the presentation.
As an aside, the conference was in Nashville, which was my first visit to the city and a very enjoyable experience.  Like a lot of fellow road warriors, I have travelled in and out of many cities without ever stopping to explore.  On this trip, we were able to visit (with partners and customers) a few fine restaurants and sample the live music on Broadway and 2nd.  Nashville is a fun city with a great live music culture and many interesting and historic sites.  It was a welcome change from the usual Atlanta/Orlando/Las Vegas circuit, where conferences always seem to end up these days.