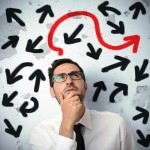 Organizations realize that providing mobile applications and access to employees has the potential to dramatically increase productivity. So why are they slow in bringing out mobile versions of enterprise software?
Several factors are slowing the deployment of enterprise-grade mobile applications, a recent ZDNet article notes. Here are the three main obstacles, followed by ways to overcome them.
Development cost: According to a 2013 survey by Mobile Helix/Vanson Bourne, 65 percent of respondents cited high development cost as an obstacle to developing mobile applications or rewriting enterprise software for mobile use. This high cost, the survey suggests, stems from the complexities and fragmented nature of the mobile device market.Only 32 percent said they felt they had the skills needed to develop native mobile apps. And those who've developed apps in the past are reluctant to do it again: 47 percent cited "reservations about repeating the process due to time, cost and complexity issues."
Security concerns: The cost of developing solutions to security concerns, reducing the developer's liability for data breaches, etc.
Increased support and maintenance costs: Support and maintenance costs tend to be high when implementing mobile applications because you're making updates regularly to keep up with the ever-changing mobile market.
Fortunately, your company may be able to avoid these obstacles and embrace mobility by using an off-the-shelf third-party package that meets your business requirements. Your general business tasks and procedures are likely similar to other companies, and with the sheer number of apps now available, you should be able to find one that suits your needs.
Using a third-party mobile application allows you to avoid development costs. You may also be able to pass off those other two obstacles. For example, the app vendor has probably already worked through the security concerns for you. And with the rapid update schedule for mobile applications, a smaller app developer might be willing to incorporate a tweak or request from you into the development roadmap.
Are you looking to learn more about how mobile applications could help your organization? Contact us today to talk with our team.
Source: ZDNet, May 2014