This week we continue our series introducing you to some of the great people who make up the Colligo team. Today we're talking with Jeffrey Bakker from our software development group.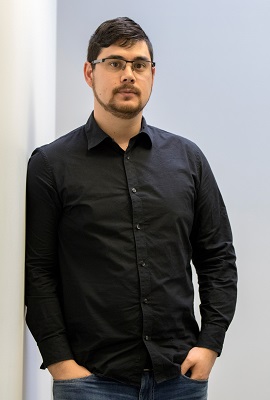 Hi Jeff, good to speak with you. Can you give us the 30,000 foot view of your role at Colligo?
I'm a senior developer here. Currently, I'm working on building infrastructure for our web projects and oversight of UI test automation. It's fun because it applies to all our projects, so I'm working with all the different development teams these days.
I'm a big advocate for best in class test infrastructure. It's not just about testing, it's about behavior-driven development. It's a philosophy about how you get clear and unambiguous requirements for a feature. We use in an English-like business language in much of our automated testing. So I'm working with the different teams to further embed it into the culture.
What drives you be such a strong advocate for behavior-driven development?
I've seen how well it works, and it's something everyone can understand, so it doesn't have to fall on just the dev or QA teams to test. It's gets everyone involved and focused on how the product is supposed to operate from the user's perspective. There's also less turnaround and fewer mistakes made during development.
Before you joined Colligo, what was your background?
Actually, it was my interest in art that really attracted me to computers. They weren't of interest to me until the 90's when computer graphics started to really take off in the mainstream. I took drafting in high school, and we'd sit at the drafting table with pencils and T-squares, and then it all started to switch to computers. Now it's all computer graphics courses. So that was my gateway into computers—the graphics. It all ties back into how I'm a very UI-oriented programmer, because I started from an artistic background.
I studied programming at college, with a focus on Information Systems, but I soon got into open source and started building things that I found interesting and I thought other people would too.
What sort of apps were you developing?
Lots of different things: tools for video games, computer benchmarking software, health and fitness tools. That was before the explosion in fitness apps, I wanted something to help me schedule and remind me and remain accountable for my workout regime. I'd see a lack of something in the market and I'd choose to make it exist.
Professionally, I worked on Windows applications before mobile platforms started becoming prominent. Then I moved onto mobile application development. For several years I worked on open source projects while also continuing to develop my own products on the side and selling them through the Apple Store.
The last company I was with before Colligo, I started in QA. They were doing 3-D virtual training technology. I was developing for prototype wearables. It was cool, but it was a little ahead of its time.
So then you joined Colligo. Tell us what attracted you to the company.
Well, I joined in late 2015. I had a lot of knowledge of multiple platforms and so I wanted to pivot into cross-platform development. So, the opportunity to work on that with Colligo where our app suite is spans multiple devices is interesting to me.
The office location is excellent, and the people and the culture are a great fit for me. I didn't know what I was missing culture-wise until I joined here. People are easy-going and friendly and we can joke around but we're serious about the work we do. There's a good balance here.
Agreed! Tell us about a day in your life at Colligo.
We usually begin with scrum standups. I used to get pretty heads down on developing great things: high quality, clean code. But in my current cross-team role there's a lot of knowledge sharing, so I spend a lot of time documenting what I learn to help with knowledge transfer and get that communicated out.
I like sharing processes and breaking down silos. I've seen people with old school mindsets who hoard knowledge which they see as job security. My mindset is the opposite. Let's all get on the same page and be productive. Who wants 4 different dev teams where each has different ways of doing UI test and build automation? There's always room for standardization around great solutions across teams.
And what do you like to do outside of work?
Road cycling. A lot of it. I skateboarded for quite a while and I still dream about it, but road cycling fills many needs for me. If you're stressed about anything and you go for a good ride, it will re-focus you. It's green and economical and that's a big part of the Vancouver lifestyle. You get to go at your own pace and explore. I love getting lost in a new neighborhood and looking around.
I still spend a lot of spare time building software. If I wasn't a programmer professionally, I'd still be doing it.
What advice do you have for people thinking about working here?
I'd say be adaptive to change. Be ready and open to learn new things. At any company we need to keep breaking down silos, that's important for new and current employees alike. Don't come in with a silo mindset.
And I recommend being part of the change. Come forward with things you are passionate about. You can bring new ideas and new ways of thinking to this company. We're all smart people and we're at a good size where you can be a real influencer if you push what you're passionate about.
People may feel shy or not confident, but great ideas come from everyone, so don't be afraid to speak up. The worst that can happen is that your idea doesn't fly, but the best thing that can happen is you help a lot of people.
Finally, I hear both around here. Settle the debate: Jeff or Jeffrey?
(Laughs) Well, most places I've worked there's usually been another Jeff in the office. So to avoid confusion I usually default to being the Jeffrey. I don't really know where I stand on it.