Our team has been busy attending and speaking at recent SharePoint Saturdays in Calgary (April 1st) and Vancouver (April 8th). As we wait for the April showers to clear, we wanted to share a few takeaways:
User adoption remains the biggest barrier to successful SharePoint projects.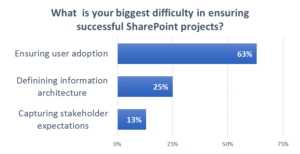 During a lunchtime presentation in Vancouver, we ran a straw poll of the audience. The results confirmed that getting end users to adopt SharePoint is still the number one pain point for the practitioners in the room – a concern we've heard for a couple of years now and consistent with past AIIM SharePoint studies.
We followed up by asking what strategies had worked to mitigate the risk of low user adoption. Some of the answers included: getting the business stakeholders to own the process—not IT, setting up a dedicated change management team, user training, and pilot testing leading to redesign as needed.
However, metrics for measuring user adoption are inconsistent.
In the same poll, we asked the audience what metrics they use to measure user adoption, and found the answers varied widely. Some people use quite anecdotal indicators like the number of change requests they receive, feedback from their business stakeholders, or user surveys.
Others use more quantitative measures such as site and list growth, whether a list view threshold is hit or not, site visits, or search analytics from the content management system. With no clear consensus on the right metrics to use, it's not surprising that the problem of low user adoption remains profound – as the cliché goes, you can't manage what you can't measure.
From our perspective, user adoption goes beyond simply the volume of SharePoint activity. The question is: what percentage of people are using the tools and following the process in the way you intended?  To know this, you need to measure user activities to understand if people are adopting the new business process. Only by measuring user activities can an organization devise strategies to improve  adoption.
Controlling distribution is vital in the mobile, digital workplace.
Our Director of Professional Services, Riyaz Lakhani, spoke at both events, and we recorded his presentation on controlling distribution of critical content in the digital workplace. He highlights the native capabilities in SharePoint and OneDrive, and runs through some demonstrations of how Colligo extends the usability of SharePoint on an iOS device.