As organizations continue investigating better ways to mobilize information workers, it's important to consider mobile content management (MCM). Let's take a look at the MCM market and how it might fit into your organization's mobile strategy.
MCM is actually the intersection of two large, rapidly growing mobile markets: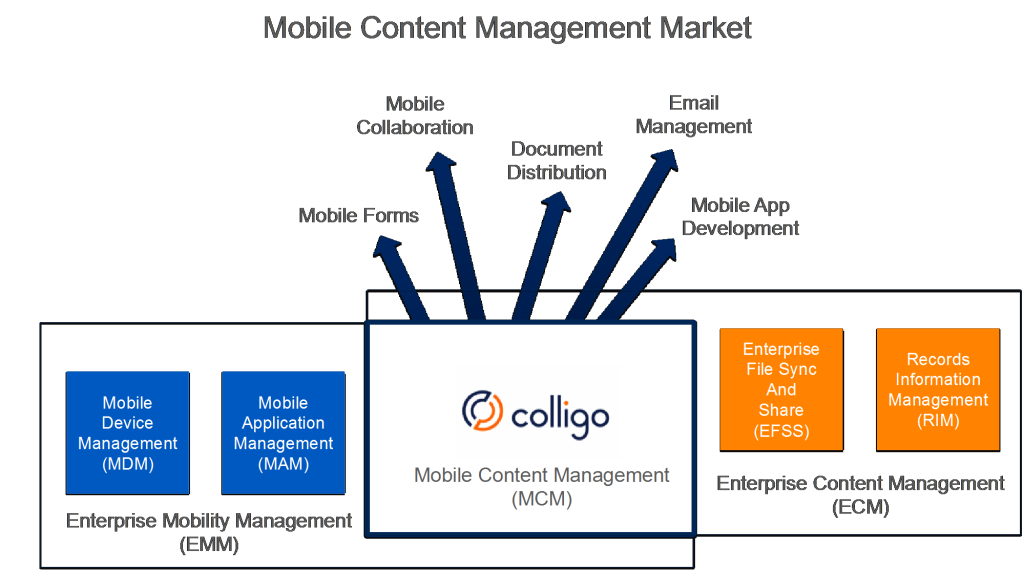 The first is Enterprise Content Management or ECM, which has a number of sub-segments. The traditional records and information management (RIM) market consists of legacy "big iron" applications and systems. And the newer, more nimble, mobile-enabled little brother to RIM is the enterprise file sync and share (or EFSS) market. As it turns out, these segments are on a collision course, as vendors like Microsoft add more EFSS-like features to SharePoint and Office 365 … while EFSS vendors, like Box, add more records management features, like support for metadata.
The next segment is Enterprise Mobility Management (EMM). This fast growing market consists of a number of capabilities that support deployment of devices and applications to enable enterprise mobility. Many of the vendors in this space started with MDM (mobile device management), but have evolved to include capabilities like mobile application management (MAM).
This is where is gets really interesting. The vendors from the ECM and the EMM spaces are now creating solutions that converge around the need to mobilize enterprise content. EMM vendors, for example, have evolved from the simple MDM to offering content storage solutions and apps that mobilize content. An example is AirWatch Content Locker. On the other hand, the vendors from the content space, particularly the file sync and share folks, provide mobile apps and administration tools as part of their storage solution. Similar solutions with different genealogies.
In the middle is the mobile content management (MCM) market. It consists of a number of sub-segments, including document distribution, mobile collaboration, mobile forms, email management and mobile app development. At Colligo, we focus solely on the MCM market, and delivering these solutions. We have a unique approach that's proven with thousands of enterprise customers. Our MCM solutions mobilize information and business content and processes, delivering on the promise of a highly productive mobile workforce, while also meeting the governance and security management needs of the enterprise.
In a recent webinar, we discussed the advantages of MCM. I'd like to invite you to watch the on-demand webinar to learn more: