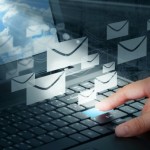 A 2016 deadline for U.S. federal records managers to move all records to an electronic database may resonate with many executives trying to bring their records management system out of the 1980s.
Keeping a trail of paper records isn't only wasteful; it's time-consuming and inefficient.
Lisa Haralampus, a policy sector head in the National Archives and Records Administration, tells InformationWeek that managing email records is a decades' old challenge that's still a problem today.
"You know you need to manage it differently," she says. "But we've been telling people that users need to print and file their email and it doesn't work."
It might seem surprising that some government agencies (and even some private businesses) still tell people to physically print and file their emails, yet it happens, even in today's online world.
For records managers, it's tough to implement a sweeping change management strategy that takes a multi-step, physical document management process online. But the good news is that there's a simple solution you likely already have access to — Microsoft SharePoint.
SharePoint document management empowers managers with a quick and easy method to get their email records online. With SharePoint, you're able to implement a highly cost-effective solution to records management.
When it comes to filing email records, using SharePoint is simple. It's easy to train users to drag and drop an email into SharePoint, which is much quicker than requiring people to physically print their emails and undertake a multi-step filing process.
"No more print and file … eases the burden on everyone," Haralampus says.
In addition to being an easy way to meet records management compliance requirements, SharePoint has the added bonus of being a cost-effective solution for managing emails and other records, which is all the more reason to adopt a document management system that belongs in the 21st century.
Want to use SharePoint document management to get your records online and in compliance? Contact Colligo to get started.
Source: InformationWeek, May 2014