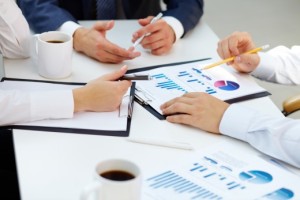 Until now, it's been difficult to put together a valid business case for enterprise collaboration with a proven return on investment (ROI) and success criteria based on other organizations' experiences. Instead, the focus has been more on softer benefits and presumptions. That's why an Aberdeen study discussed in an article from InformationWeek is so important — it highlights tangible ROIs that come with enterprise collaboration.
The study compared organizations with collaboration tools against those without such tools, and the results clearly show organizations that have embraced collaboration are more successful. This adds a huge amount of weight to the business case for collaboration tools.
The study reports that collaboration increases customer retention, employee productivity and employee satisfaction, and leads to a sales cycle reduction. Companies that identified collaboration as their top business goal saw a 16 percent year-over-year increase in customer retention, a 15 percent increase in employee productivity, a 13 percent increase in employee satisfaction and a 12 percent increase in sales cycle reduction.
Companies that didn't identify collaboration as a top business goal saw less than half the year-over-year growth in each of these areas, and employee satisfaction for those companies actually dropped by 2 percent.
It's interesting that customer retention, with a 16 percent annual increase, ranked higher than employee productivity, at 15 percent, among companies that use collaboration tools. This shows the importance of partnerships between companies and suppliers in today's business world. Customer collaboration portals in particular are becoming increasingly popular to improve communication and productivity in partnerships.
The article also notes increases in revenue, project delivery and customer service for companies with an enterprise collaboration strategy, compared with those without one. On average, those companies had a 131 percent greater annual increase in operational efficiency, a 122 percent increase in delivering projects on time and a 55 percent increase in revenue. They also showed improvements in sales reps meeting goals and in shortening the time to respond to customer inquiries.
Note, though, that "strategy" is an important concept here. The research found companies that approached collaboration in an ad hoc or a laissez-faire manner — letting employees and departments set up their own unsanctioned collaboration systems — didn't see many of the same benefits. The best ROI for enterprise collaboration requires a system that has some deliberate planning and is enthusiastically embraced by leadership.
Source: InformationWeek, November 2013