Come and get it. Contributor 4.0 is through extensive internal and external testing and is now available for download. You can get a trial here. Better still, you can buy a copy here🙂
As a person who relies heavily on SharePoint for my work, I particularly appreciate the extensive support for metadata in Contributor File Manager, the new Windows Explorer extension. In addition to syncing document libraries and lists, it syncs the column definitions from the default view and displays them. Then I can use all the traditional sorting and grouping functions of Windows Explorer to organize the information. Accessing, editing and tagging SharePoint information is now extremely fast. Below is a screenshot to illustrate what I'm talking about.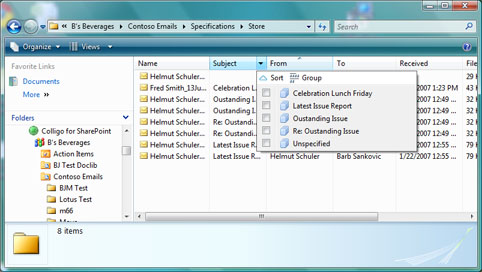 Also, because Contributor now supports copying whole folder trees, including metadata, I can use the product to easily move files and metadata from one document library to another, or even one site to another. It's much easier than doing it in SharePoint.