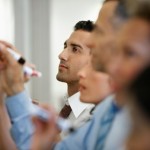 If you're seeking to improve collaboration and communication across your organization, tools like SharePoint are able to help. But technology alone isn't going to make a difference.
To truly embrace the changes that collaboration tools enable, you need to change how your organization operates and thinks, according to an article on Re/code. The article highlights several pitfalls to avoid if you want to truly transform your workplace and drive cultural changes.
"In other words, if you find yourself doing these things, it's time to reconsider the tools and processes on your team, and try something new," Steven Sinofsky writes.
Here are four signs that, as Sinofsky puts it, "you're doing it wrong."
You delay work until someone puts it on your calendar: Today's communication tools enable a fast-paced exchange of information and ideas. That's critical to creating an open and collaborative environment.  Don't allow calendars to become a bottleneck.
You collaborate via email: With email, you're going to lose important context, and everyone isn't involved in the conversation. Collaboration platforms help to keep everything in one place and make it easy to search previous conversations. Especially in organizations with employees spread out across multiple locations, everyone needs to be connecting on a single platform.
You're relying on static, outdated numbers: Thanks to mobile collaboration tools, there's no excuse not to bring real-time, live data to meetings. This ensures that everyone is analyzing and making decisions based on the most up-to-date information available.
You need to think about which device your documents are stored on: With third-party apps for collaboration tools like SharePoint, users are able to access content on any device, whether they're connected to the Internet or offline. There's no need to have documents stuck on a single device.
Organizations that embrace new ways of working are more likely to reap the benefits of increased productivity and collaboration. Take advantage of today's tools to change how your business operates.
Are you ready to learn more about how collaboration tools could help your organization? Contact us today to talk with our team.
Source: Re/code, April 2014