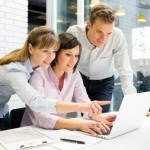 While most organizations view enterprise collaboration as "crucial" to business success, they're also confused about how collaboration and social tools link together.
Those findings come from recent AIIM research focused on how enterprises manage collaboration and enable users to collaborate via mobile devices. An article on the CMSWire website breaks down the 33-page study, which gathered responses from 421 surveys.
Here are four keys to enterprise collaboration success, as outlined in the AIIM research and CMSWire article.
Develop your strategic drivers: It's important to understand how improving collaboration would specifically benefit your organization. The research found that controlling how documents are shared is the greatest incentive for adopting an enterprise collaboration system. In particular, organizations want the ability to share documents through mobile devices and have remote access to documents.
Consumer file-sharing services (such as Dropbox) are banned in 56 percent of those organizations surveyed in order to ensure that collaboration happens only on approved enterprise systems.
Plan your adoption strategy: "If you build it, they will come" doesn't apply to enterprise collaboration. You need to clearly demonstrate to users how embracing a collaboration system is going to help them.Of course, your adoption strategy also needs to include choosing the right system for your organization. Nearly half of the respondents to the AIIM study expressed interest in hybrid cloud systems.
Choose the right features: Most organizations are looking at security features. "It is even more important than price or compatibility with existing ECM/DM systems," the CMSWire article notes. "This is particularly important to enable managed access by external users."
Provide mobile access: Users need to be able to access content on mobile devices. Reports, dashboards and electronic forms are commonly accessed via mobile devices, yet only 30 percent of respondents to the AIIM study have this ability. In today's business world, where employees often work remotely, mobile access is a necessity for enterprise collaboration to be successful.
These four areas provide a snapshot of what's happening in the enterprise collaboration software space. While the technology is evolving, it's becoming clearer that collaboration tools are playing a bigger role in connecting people and making content more accessible.
Source: CMSWire, March 2014