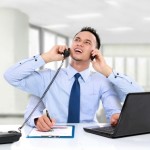 Governments have a reputation for lagging behind the private sector when it comes to adopting technology. But as they face increasing pressure to operate more efficiently, governments are embracing many emerging technologies.
Gartner describes "smart governments" as those that "integrate information, communication and operational technologies across multiple domains, process areas and jurisdictions to generate 'sustainable public value,'" according to an article from CMSWire. 
There are 10 technology trends that Gartner expects to have a big impact on improving government efficiency. Here are the top three trends:
Personal mobile workplace: Some organizations have adopted a bring-your-own-device (BYOD) strategy that aligns internal security policies with workers' personal device preferences. Other entities provide employees with mobile devices."Ultimately, organizations will have to allow employees (to) decide how they want to use their devices in tandem with organizational security and data concerns," the CMSWire article notes. Security is the key. Employees need to be able to use mobile devices for work, but they must also be adhering to security policies.
Mobile engagement: Gartner reports that more governments are inquiring about using mobile and social software for delivering client-facing services. Any service delivered across a mobile channel has to be available on a variety of devices and be as clutter-free as possible. Information should be delivered how and when users need it, with a focus on relevancy and immediacy.
Big Data Analytics: With the volume of usable data exploding, governments are moving away from traditional data management methods in favor of Big Data analytics initiatives. 
Just like their private-sector counterparts, government employees and politicians are demanding mobile access to information. Governments in particular are security-sensitive as they're working with classified information. In that sense, governments are often on the leading edge of providing secure access to content via mobile technologies.
Learn how Colligo Professional Services could help your organization achieve greater user adoption and the highest possible ROI.
Source: CMSWire, April 2014