Colligo Workgroup Edition
Instantly and securely network wireless-enabled laptops—at a client site, in the field, or on the road. Transfer files, share folders and printers, collaborate on documents, chat, compare calendars, and much more.
Shared resources are protected using 168-bit encryption, ensuring a high level of security and control. Shared folders can be used to extend client-server applications that require a central file store on one of the laptops, and can be accessed by other team members over the wireless network.
"
With Colligo Workgroup Edition, our auditors in the field can instantly create wireless networks to securely transfer files, and start working immediately.
"
- Keith Newton, Partner, Grant Thornton
Colligo Workgroup Edition Features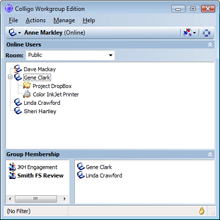 Securely network wireless-enabled laptops
Instantly and securely network wireless-enabled laptops—at a client site, in the field, or on the road. Automatically detect other Colligo users in the vicinity and invite them into the network. Connect to one or multiple colleagues without any other network connection.
Create one-to-one or many-to-many networks
Discover and authenticate with team members
Keep your data secure with 168-bit encryption
Set your status and see the status of colleagues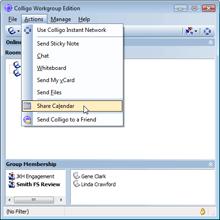 Share files, calendars, and resources
Drag-and-drop files to instantly transfer them to colleagues. Teams can securely synchronize databases and back up files to shared folders, without access to central servers. Reduce the risks associated with out-of-date information and ensures that confidential data is protected. Share calendars and printers across the network.
Instantly transfer files among colleagues
Give team members access to shared folders
Book meetings by sharing Outlook calendars
Share one printer among workgroup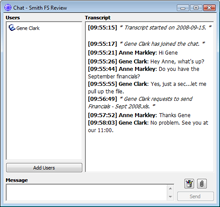 Communication tools
Communicate effectively from a variety of tools. Chat in real time. Use a multi-page whiteboard to share ideas and brainstorm. Mobile workers can even send each other electronic sticky notes. All communication transactions can be saved for future reference.
Chat in real-time with other team members
Collaborate as a team on a shared whiteboard
Send short sticky notes messages
Log all communication sessions

Learn why over 5000 organizations worldwide – including Microsoft – rely on Colligo to improve collaboration, increase productivity, and mitigate corporate risk.