Colligo Email Manager
Powerful Windows app to drive SharePoint adoption, increase productivity, streamline collaboration, and mitigate corporate risk.
Seamless integration makes it simple to manage email and attachments in SharePoint, right inside Microsoft Outlook.
Improve collaboration, document management, and project management
Increase the quantity of content captured and tagged in SharePoint
Ensure mobile and remote productivity with offline access and powerful sync technology
Improve compliance and drive records retention
Reduce uncontrolled content in personal archives and PSTs
Drive SharePoint adoption with unparalleled ease-of-use
Supports SharePoint 2007/2010/2013 and SharePoint Online (Office 365)
If you do use SharePoint 2010, use Colligo for Outlook integration.
- Gartner, "Making SharePoint Deliver"
File
Drive SharePoint adoption and increase efficiency with seamless SharePoint-Outlook integration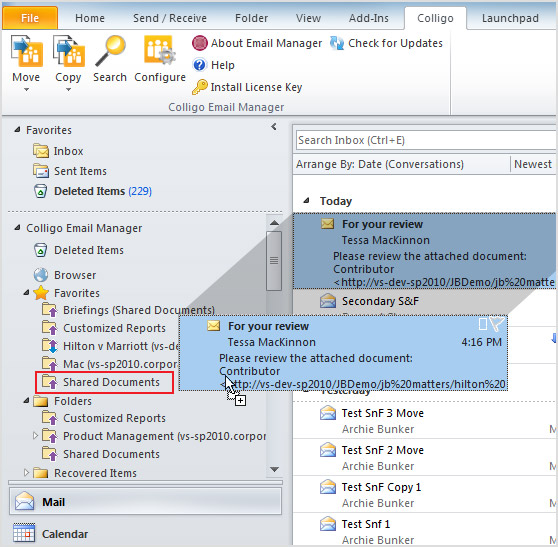 Seamless Outlook integration
File email and attachments to SharePoint online and offline
Easy to use drag-and-drop, point-and-click within Outlook for filling emails &attachments to SharePoint
Use smart file naming: Sender, Date-Time, Subject
Conflict resolution for duplicate email/attachment upload
Automatically file email to SharePoint using Send-and-File
Background file upload so users can continue to use Outlook
Easily store items in the correct SharePoint location with ad-hoc filing for fast navigation of any size folder hierarchy
Automatically save email to SharePoint using Outlook rules
Declare email records using SharePoint's in-place records management
Tag
Increase compliance and streamline collaboration with industry-leading metadata capabilities
Automatically tag email with 22 common properties, such as "To", "From", "Subject", and "Sent Date"
Custom metadata support for all major SharePoint metadata types, including enterprise managed metadata (taxonomies and keywords), & person/group metadata
Use custom metadata to categorize email according to regulatory or organizational requirements
Support individual or bulk metadata tagging for multiple files upload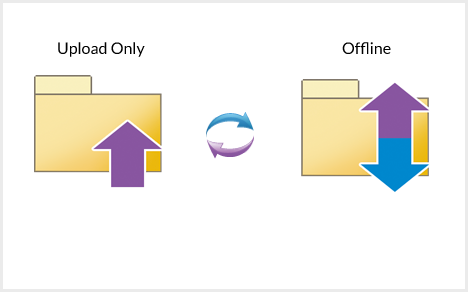 Powerful sync for up-to-date content
Sync
Colligo's powerful sync technology ensures up-to-date content and easy conflict resolution.
Select specific libraries and folders for upload only or offline use
Synchronize automatically or manually to ensure latest content
View and manage SharePoint content and email while offline
Find
Improve discoverability and accelerate business processes with federated search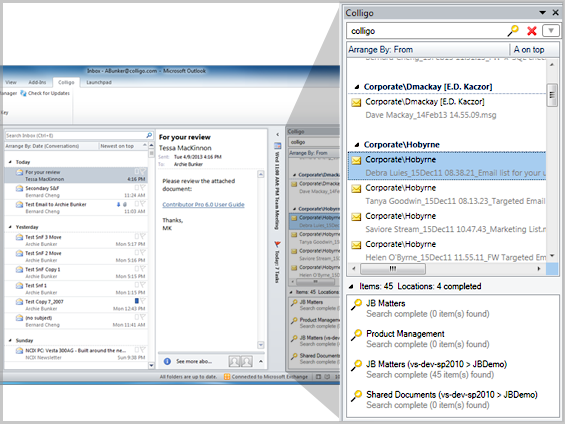 Outlook and SharePoint search
Search Outlook and SharePoint sites simultaneously
Search on specific email metadata fields (e.g. To, Subject) or customer metadata
Support for keyword, FAST and SQL search
Share search results by sending a link to an item's SharePoint location or attach the item
Search SharePoint for email, email metadata, documents, images and more from a search pane within Outlook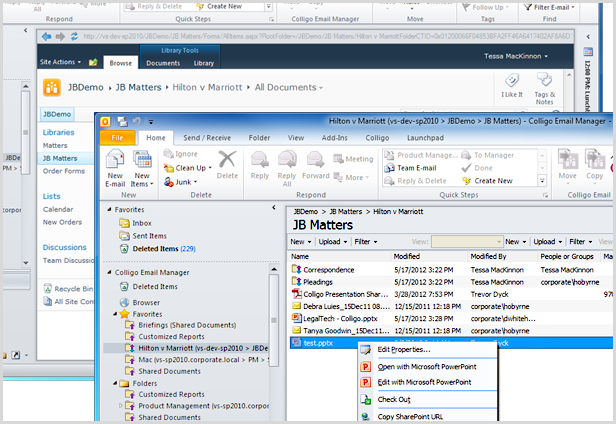 View SharePoint content online and offline
View
View SharePoint content within Outlook, simply by clicking any SharePoint folder in the Outlook folder tree.
Browse, open and view files, lists and any other SharePoint content from within Outlook
View SharePoint content and access to SharePoint features such as check-in, check-out within Outlook, online and offline
SharePoint libraries and folders are represented as folders in the Outlook folder tree; familiar Outlook experience
Share
Streamline collaboration, reduce storage costs, and promote SharePoint for enterprise content management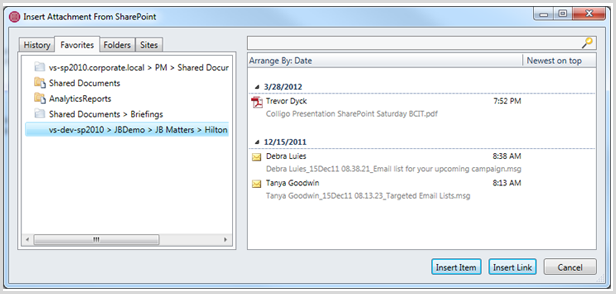 Streamline collaboration
Email attachments as link to prevent multiple copies of the same content
Share SharePoint documents with fast, right click access to 'send as attachment' and 'send as link'
Copy SharePoint content URL for collaboration
LaunchPad
Add quick access icons to the Outlook ribbon for websites, social networking sites, and web applications, inside Outlook.

Access web apps, including social networks such as Yammer, Facebook, Twitter and LinkedIn, without leaving Outlook
Customize Outlook ribbon with links to frequently-visited sites
Centralized IT administration and control, by user or department
Configurable icons, names, and groups
Group URLs according to business or project needs
Colligo Administrator
Increase IT efficiency and reduce costs with centralized administration.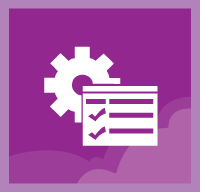 Centrally administer SharePoint sites, folders, and favorites
Support corporate governance initiatives with secure, centrally-enforced role- and policy-based SharePoint access
Ensure appropriate access with configuration on a per-user or departmental basis
Manage other web application URLs in groups according to business or project needs
Virtualization and Hot-Desking
Colligo Email Manager supports Citrix XenDesktop and Windows Remote Desktop (RDP) for multi-user, multi-session scenarios. A separate license is required.