Colligo Partner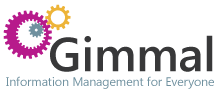 Region North America
Type Alliance
Contact
http://www.gimmal.com
24 Greenway Plaza, Suite 1000
Houston, TX, 77046
United States
Phone: (877) 944-6625
Colligo Networks and Gimmal have partnered to integrate Colligo's industry-leading email management software into the Gimmal Compliance Suite for SharePoint 2010, a DoD 5015.2-certified, native SharePoint 2010 records management solution. Our partnership enables Gimmal to offer Colligo's email management software as part of their innovative SharePoint-based records management solution, targeted at both federal government and commercial customers requiring a DoD 5015.2-compliant platform.
DoD 5015.2 is the U.S. Department of Defense's (DoD) Design Criteria Standard for Electronic Records Management Software Applications. Endorsed by government agencies worldwide, including the National Archives and Records Administration (NARA), its standards have been used as a basis for global records management benchmarks, including the United Kingdom's Public Record Office (PRO) standard and the European Union's Model Requirements (MoReq).
Following its adoption by the public sector, many private sector businesses now routinely use the certification as the "Gold Standard" for records management solutions.